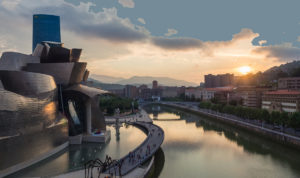 The AIAS has been working in collaboration with the Sheet Metal and Air Conditioning Contractors' National Association (SMACNA) for over a year to develop an architectural internship program for AIAS members. The program pairs leading architectural sheet metal contractors with promising architecture students to give them experience seeing architectural designs brought to life through the construction process. The first trial internship was in 2018 with AIAS member and MIT student, Michelle Menkiti, working in Kansas City for A. Zahner Company. SMACNA architectural sheet metal contractors work on some of the most complex and high-profile projects in the world, including the Minnesota Vikings / U.S. Bank Stadium, Starbucks' NYC Reserve Roastery, Milwaukee Bucks Arena, Mercedes-Benz Stadium, and the Harim Tower in Gangnam, Seoul, South Korea.
In addition to increasing the awareness of architects that touch the industry, this program aims to provide architecture students with real-world experiences beyond their traditional education. AIAS will match its students to available internships with SMACNA architectural sheet metal contractors across the country, thus exposing interns to a variety of roles within the sector, offering hands-on training from a licensed professional, and enhancing the relationship between designers, fabricators and construction workers. SMACNA has already received interest from several member companies eager to host interns in their companies.
Paid internships will provide architecture students with education credit hours in accordance with the Architectural Experience Program (AXP™) of the National Council of Architectural Registration Boards. To meet eligible credit requirements as part of the internship, students may expect to participate in pre-construction, pre-installation, and regular progress meetings with design teams; understand implications of project delivery technologies and methods; manage information exchange during construction; maintain compliance with established milestones; prepare diagrams illustrating spatial relationships and functional adjacencies; perform building code analysis; prepare cost of work estimates; review shop drawings and submittals during construction for conformance with design intent; and manage project close-out procedures.
These internships can vary in length and duration and can be mutually decided on by the company and the student. Some students may have a summer internship or a semester co-op program, while others may be working for a year in between undergrad and graduate programs.