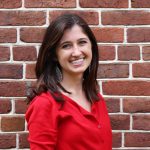 Sarah currently serves as the 2016 – 2017 AIAS National President.
Originally from Austin, Texas, Sarah attended Auburn University where she earned her Bachelor of Architecture and Bachelor of Interior Architecture in May of 2016. While at Auburn, Sarah attended the Rural Studio in 2013, studied abroad in Rome in 2014, and pursued urban studies at Auburn's Urban Studio in Birmingham, Alabama for her fifth year.
Her experience working with the American Institute of Architecture Students has complemented a diverse education in social responsibility, community engagement, and dignity through design.
Through AIAS, Sarah has found her passion in serving as a lifelong advocate for architecture and architecture students.