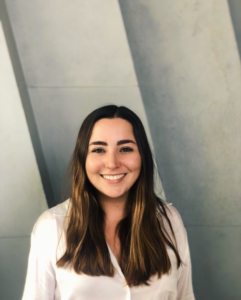 Name: Maria Regina Andonie Gracia
School: Universidad de Monterrey
Degree Program: Architecture
Year in School: Fourth Year
Describe your studio culture:
Opened 24/7 all 365 days of the year, our studio is a space dedicated to architecture, art, fashion, graphic, industrial and interior design students who enjoy challenges.
Give one tip that has helped you succeed in your studio:
The extra mile is never crowded.
What motivates you to work hard in studio:
Proud of who we are (not only as a University, but also as a country) and where we are going, and designing for the public welfare.
What aspect of your studio experience do you think will help you get a job?
Collaboration, teamwork, problem solving, dedication and portfolio content.

What can professors do to create a helpful and supportive studio culture?
Demanding the best versions of ourselves to become better and more prepared architects.
What should a high school student understand about studio at my university: 
If you love what you are doing then it is all worth it. It is also the best roller coaster I've ever ridden.
What can AIAS do to help improve your studio experience: 
Creating more opportunities for the international quad.

What would be in your ideal studio care package:
Cannot miss the laptop charger, coffee and Uber Eats.
Complete this sentence: I love studio because:
Its my second home and every all nighter is like a pajama party.