Close to 600 students and leaders of architecture and design from across North America gathered in San Francisco for the AIAS FORUM 2015. The conference, held December 29, 2015 to January 1, 2016, is the largest annual gathering of architecture students in the world.
Attendees participated in workshops, educational sessions, a college + career expo and heard from eight keynote speakers, including:
Rosa Sheng, Bohlin Cywinski Jackson

Robert Ivy, EVP/Chief Executive Officer of the American Institute of Architects (AIA), who led a panel discussion with:

Marc Arnold

Sylvia Kwan

Lisa Majchrzak

Clark Manus

Carey Smith, CEO of Big Ass Solutions

Gervais Tompkin, Gensler

Evelyn Lee, MKThink

Hector M. Perez, School of Architecture – Woodbury University

Irving Gonzales, AIA San Francisco President

John Cary, FRESH Speakers co-founder, writer, 1999-2000 AIAS National Vice President
Firm Crawl
Four firms based in San Francisco opened their doors to 160 students for firm crawls. The firms spoke about the work they were doing, their office culture, and what it's like to work in San Francisco. The students were able to ask questions and see various types of firm cultures throughout the course of the day. The firms they toured were:
Gensler

Herman Coliver Locus Architecture

Heller Manus Architects

HOK
Council of Presidents
In various meetings with chapter leaders, the AIAS Board of Directors presented on the current state of the organization, discussed matters of importance to the organization and entertained motions from chapters. AIAS President Danielle Mitchell also moderated a collateral leadership panel. The Council of Presidents voted upon the new board.
Elections
Annually at AIAS FORUM, chapter leaders are called upon to elect the new incoming board of directors for the organization. This year's Call for Candidates saw a remarkable number of members stepping up to take on these leadership positions. For the elections during AIAS FORUM 2015 each open position had at least two candidates; one race had up to six candidates. Read the article 2016-2017 AIAS Board of Directors Elected at AIAS FORUM 2015 for the election results.
College + Career Expo
More than 40 exhibitors including schools and firms from across the nation reached out to attendees during the College + Career Expo sponsored by NCARB's Architect Licensing Advisors Community. Students were able to speak with school and firm representatives one-on-one.  
Workshops

AIAS FORUM 2015 offered eight workshops. This included: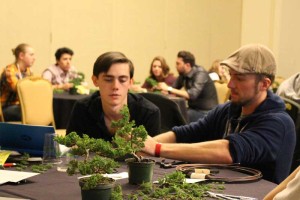 Architectural Visualization with Vray with Black Spectacles

Portfolio Design led by Elizabeth Radtke & Matthew Gaul sponsored by AIA San Francisco's Bay Area Young Architects

Adobe Advanced Class with Peter Suen

Build Your Own Bonsai with Matt Reel

SketchUp SF with Severin Villiger

Freedom by Design
Educational Sessions
Throughout of the course of the 4-day conference, attendees had the choice of 20 educational sessions. Topics ranged firm profiles, architypes, Freedom by Design, career sessions, portfolio reviews and more.
Tours
AIAS FORUM participants were able to explore San Francisco through twelve tours, including walking tours of the city and popular destinations like Chinatown, the Golden Gate Bridge, Alcatraz, the California Academy of Sciences and the de Young museum.  
FORUM After Dark
FORUM After Dark was a way to continue the fun after the daily events. The first event, the Honors & Awards Reception, celebrated the extraordinary achievements of fellow AIAS members at the nearby Children's Creativity Museum. The following night took attendees off campus to the restaurants and bars of San Francisco's Mission District for Quad Crawls. Attendees rung in the new year at the Beaux Arts Ball, which was themed as the AIAS' take on Burning Man. The closing night party ended quietly, but with the popular silent disco.
The AIAS would like to extend a thank you all of our sponsors.
National Sponsors
AIA

Autodesk

NCARB

NTMA

American Galvanizers Association

Graphisoft ARCHICAD

Big Ass Solutions

dot archi

EIMA

The Vinyl Institute

Black Spectacles

Gypsum Association

ICON
FORUM Sponsors
NCARB's Architect Licensing Advisors Community

Gensler

Tau Sigma Delta

Silent Events
Collegiate Associates
Boston Architectural College

California College of the Arts

Clemson University

Drexel University

Florida A&M University

Georgia Institute of Technology

Illinois Institute of Technology

Judson University

Kent State University

Lawrence Technological University

Montana State University

NewSchool of Architecture & Design

New York Institute of Technology-Old Westbury

North Carolina State University

Philadelphia University

Roger Williams University

School of the Art Institute of Chicago

Temple University

Tulane University

University of Arizona

University of Cincinnati

University of Hartford

University of Illinois Urbana-Champaign

University of Kansas

University of Minnesota

University of North Carolina-Charlotte

University of Tennessee-Knoxville

Washington State University

Wentworth Institute of Technology

Woodbury University-Burbank