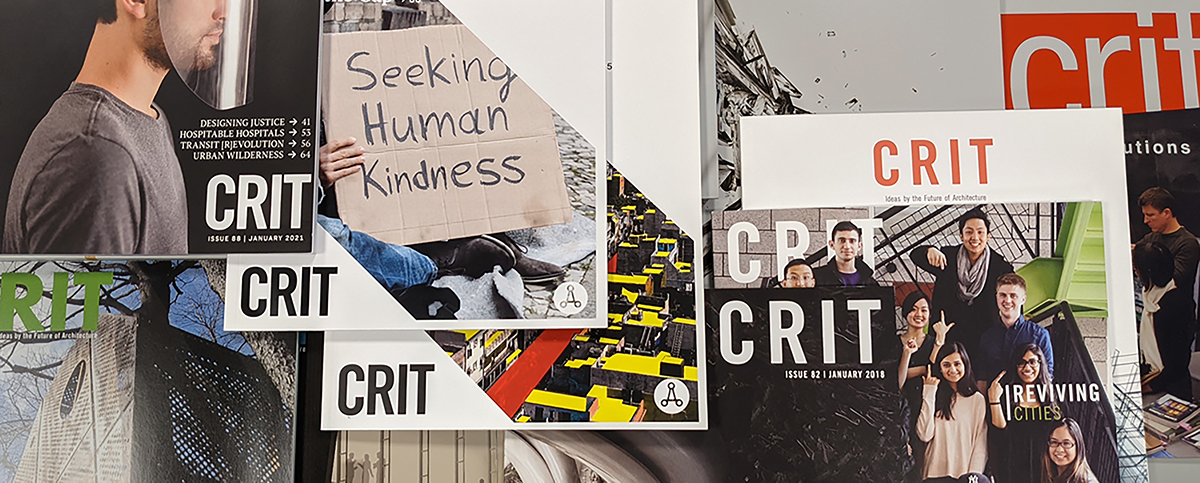 CRIT is the journal of the AIAS and the premier publication of student's in architecture, design, and associated fields. Published since 1976, CRIT offers a variety of opportunities for AIAS members and acts as a forum for critical discourse and the dissemination of knowledge.
CRIT is your opportunity to distinguish yourself from your peers and provide you a competitive edge. CRIT presents opportunities for students to have their work published in a national journal that is read by thousands of students and is a part of the collections of nearly every architecture school library and a growing number of architecture firms.
Publication in CRIT is a unique accomplishment and an honor. Contributing to CRIT is also an opportunity to develop research and writing skills. The Editor-in-Chief has the dual responsibility of curating a high-caliber journal and acting as a writing mentor to contributors.
AIAS members receive CRIT at no charge as a benefit of membership. CRIT subscriptions are available for libraries, firms, and other interested parties. CRIT also presents advertising opportunities, as it is read by thousands of architecture students in North America. Questions about subscriptions and advertising should be directed to the Editor-in-Chief at CRIT@aias.org.
But most importantly, CRIT is the place where you – architecture students – can state your opinions, provoke dialogue, and display your knowledge and skills.