Looking forward to joining us in Washington, DC for the annual Grassroots Leadership Conference? We're excited to have you, and we have a great lineup of firms who are excited to meet you during your Quad Receptions!
Northeast Quad:
FOX Architects is a fully integrated, award-winning architecture and interior design firm based in the nation's capital. Founded in 2003, our firm delivers exceptional commercial office design solutions. We partner with our clients to design smarter environments that are intelligent and influential. To this end, we incorporate our architecture and interior design disciplines seamlessly for a dynamic inside out, outside in approach to the built environment. Our robust graphics and multimedia capabilities augment our design expertise and provide our clients with a holistic product. The end result is a sophisticated and thoughtful design actualized.
Midwest Quad:

HKS To those wanting to make an impact with design, HKS is the architect where focused people consistently deliver the extraordinary. We are passionate, knowing that people live, work, play and inhabit the spaces and places we imagine and envision for our clients. We are responsive, understanding that we are in a service business and the vision is that of our clients – never of ours alone. We are global, creating exceptional spaces across the globe through our connected network of offices and people. We are one, with tremendous talent across a wide spectrum of expertise, believing that the value of talent, experience and knowledge is multiplied when shared. We are thorough, balancing extraordinary design with technical expertise and construction administration backgrounds for streamlined, on-time, within-budget projects. We are HKS. We create places that enhance the human experience. Each and every day.
 West Quad: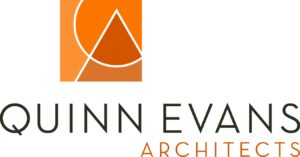 Quinn Evans Architects is a preeminent authority in preservation and sustainable stewardship, and plays an increasingly influential role in defining the future of the field. QEA has grown from a two-man studio founded in 1984 to a thriving multi-faceted firm with a national presence. We have four full-service offices in Washington, DC, Baltimore, MD, Ann Arbor, and Detroit, MI, as well as a studio in Madison, WI. Today we focus on providing award-winning architecture and design with a perspective informed by history and place.
South Quad:

SmithGroup JJR is one of the world's preeminent integrated design firms. Working across a network of 12 offices in the U.S. and China, a team of 1,300 experts is committed to excellence in strategy, design and delivery. The scale of the firm's thinking and organization produces partnerships with forward-looking clients that maximize opportunities, minimize risk and solve their most complex problems. SmithGroupJJR creates exceptional design solutions for healthcare, science and technology organizations, higher education and cultural institutions, urban environments, diverse workplaces, mixed-use and waterfront developments, and parks and open spaces.