The Pipeline and STEM
Scholastically, "the pipeline" refers to the educational system beginning in kindergarten and ending when one receives their first professional degree in their field of study. Academics and professionals alike are beginning to turn their gaze toward fostering mentorship and supplemental education through workshops, camps, and other avenues for young children. Many have heard of STEM (science, technology, engineering, and mathematics) programming because there are numerous initiatives for STEM programming in education as early as primary school.
Why does it matter?  
According to Engineering for Kids, "STEM education helps to bridge the ethnic and gender gaps sometimes found in math and science fields. Initiatives have been established to increase the roles of women and minorities in STEM-related fields. STEM education breaks the traditional gender roles." Architecture is often described as the apex of art and science.
When approached with STEM concepts and opportunities to be mentored by college students and professionals during their early education, an upward trend in student's enrollment is observed in STEM majors. Architecture is technical and employs all the skills learned in a traditional STEM program. However, architecture is also an art in the way that challenges one to create opportunities and solve problems in a creative and innovative manner.
AIAS members hold a responsibility to reach out to high school students and teach them the significance and responsibilities of architects.  Many children are unaware of what they are capable of because they do not have a family member in a professional field. Many children have never been told they can be scientists, engineers, doctors, architects.
AIAS – boots on the ground
We currently have 14 high school chapters and countless university chapters that are hosting events for high school students.  We are shifting focus as a profession to supporting a younger group of students. This is to combat the negative effect a high school guidance counselor has on the enrollment of college seniors in architectural programs. Students have been told they will not find jobs after graduation by people who do not value or understand what architects do. The value of design education is being stripped away. We are capable of and are changing that!
AIAS combats this stigma in several ways; One such program is Freedom by Design. In 2017, students at Roger Williams University designed benches to be installed for an outdoor classroom at Claiborne Pell Elementary School. The benches were approved by the master carpenter at Rogers High School, and built by students who attend the school.  By doing this, Roger Williams University has introduced the design-build concept to middle school students with the desire to create.  The Roger Williams' elementary education students have also designed a curriculum to be taught in the new outdoor classroom.  The curriculum centers around planting trees and healthy environments.  Each of the benches have planters built within them to facilitate the planting and exploration of trees. Projects like this are examples of how design students can have a lasting impact on students and their communities.
What YOU can do RIGHT NOW
Encourage a child to be courageous in their dreams and aspirations. Have a conversation with your little cousin, next door neighbor, or a class of high school students.  You do not need to coerce them into becoming an architect, a lawyer, or a scientist. Just have a conversation about what they want to be when they grow up and open the doors of their imagination.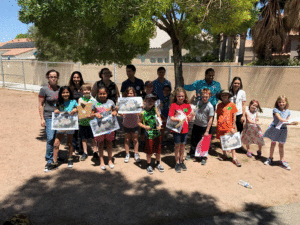 Left: University of Nevada Las Vegas working to educate students at a local elementary school.