Last week we invited you to join us on Instagram for a firm tour of Erstad Architects to get a feel for what it's like to work in a firm in Boise, ID. This week on I Want to Work In (#iwtwi), we are featuring the top five places to eat, sleep, work, play, and study in Boise. This list will help you familiarize yourself with the city being featured in case you are interested in living and working there in the future!
top 5 places To…
Live
There's a neighborhood for everyone in the Treasure Valley, but I have a few personal favorites.
The North End is one of the cutest neighborhoods I've seen, with stately turn-of-the-century homes and tree-lined streets. This neighborhood knows how to dress up too – it's a sight to see around Halloween and Christmas! The proximity to the foothills is what puts it at my number one spot.
Southeast Boise is the place to live if you love direct access to the Greenbelt. I lived here for over a year and loved being able to walk out my door and onto a trail by the river.
Boise Bench has a lot of diversity and a great community-centered soul. This is where I live now, in a very charming mid-century home. It's also not too far from the Greenbelt, so I can bike to work most days.
Downtown Boise is full of both modern and historic complexes, with a vibrant atmosphere and proximity to everything you could need. Living downtown is the best way to get to know the city!
Work
Erstad Architects – I may be a little biased, but it truly is a great place to work and develop your skills. The firm culture is inviting and fun, and we work on a wide range of projects, with a large focus on non-profit collaboration. The first project I ever worked on was the expansion of Zoo Boise. One of my recent favorites is the Salvation Army Boise Corps Community Center.
Cole Architects – This firm is just plain fun. The people who work there and proud to be there, and their firm culture is strong. Their focus lies in collaborative design, sustainability, and community.
CSHQA – This is an A/E firm with offices located in California, Colorado, and Idaho. Their expertise is wide and varied. They play a large role in our AIA community, hosting many events in their large office.
Lombard Conrad Architects – I may be a little envious of their location, located right on the Greenbelt and overseeing the river. This firm has a lot of energy and pours this into amazing designs for K-12 education projects.
Pivot North – This is a younger firm, developed less than a decade ago. However, they've already made great connections in the community that has led to impressive projects. Their culture is fun, and quite a few of their employees are very active in the local AIA and other professional organizations.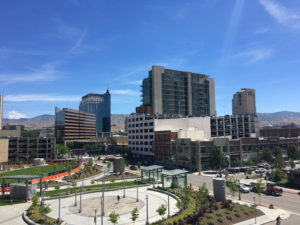 Eat
A few of my favorite local restaurants include Fork, Boise Fry Company (because it's Idaho, of course) El Diablo & Sons, and Chadlers (when I'm feeling extra fancy). For coffee, I usually head to Flying M Coffeehouse or Java Cafe. The STIL hands down has the best ice cream I've ever tasted, and they do wine and beer pairings – win, win! The best place to grab a beautiful cocktail is Water Bear Bar. Space Bar is the place to go for arcade games, while Handlebar is the place to go for tricycle races! Meriwether Cider House is my favorite place to go on First Thursday, a monthly downtown event that celebrates the cuisine and small businesses of Boise. Finally, when I'm in a rush, I like to stop by one of the many food truck options, which continue to grow in the city. .
Play

Explore the Sawtooth Mountains – Idaho is full of amazing wilderness, and I try to get out to the mountains as often as possible. This mountain range is a personal favorite because it's only two hours from the city, there are beautiful alpine lakes and natural hot springs to discover, and the peaks look like jagged teeth – a beautiful and spectacular sight.
Run or bike along the Greenbelt – I didn't grow up around water, so I'm always fascinated by the Greenbelt and associated park system. I use the Greenbelt to get to work, but I also just love to explore its sights in my free time.
Hike the foothills – Boise is surrounded by foothills. They have a great Rivers to Ridges initiative that allows people to explore the vastness of the region without getting too lost. The foothills in late spring are a sight to see, and perfect for an afternoon of hiking and picnicking. It's also prime mountain biking territory, which I plan on getting into this summer!
Attending local activities – Boise seems to be thriving with each season, hosting a variety of local events. My favorites include the Farmers Market, Alive After Five, Boise Basque Festival, and the Hot Air Balloon Celebration. I also like to attend nearby town's events, including the Annual Trailing of the Sheep Festival that occurs in Sun Valley.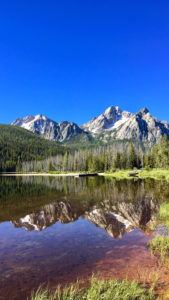 Study
Outside! When the weather allows it, I love to study outside.
There are a few neighborhood parks that are perfect for a relaxing study afternoon. I've also brought study materials along while camping and fishing. Work on a weekend.
For some reason, I love to study at the office, especially on a quiet weekend. It's a place of focus for me, and my firm provides all the resources I need for a productive study session.
A local café. Maybe it's the quick access to caffeine or the low nose of chatter, but a coffee shop is great place to get in the zone for me. A few local favorites include Push and Pour (right by the water for a quick study break!), The Flying M, and Java Café (both in the heart of downtown). It's even better if I can bike to my study place, because exercise helps kick my brain in gear.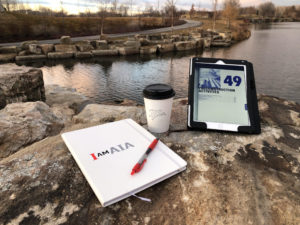 Meet People
Boise Young Professionals – An organization that is near and dear to me. I met my first group of friends here, and we continue to have a strong friendship. What I love about this organization is that there are people from all different industries, they focus on community events, and they always have an opportunity to get involved. This is the perfect organization to join if you're new to the area.
AIA Central Idaho – Our local chapter that hosts many social events to mix and mingle. I've met some wonderful aspiring architects through these events. They continue to inspire my journey towards licensure.
Volunteer events – Boise has a variety of non-profits that make a big difference in our community. I try to sign up for an event each quarter, and I've met fantastic people who share a desire to better our community and give back.
Fun Facts
Boise is nicknamed the City of Trees, and Idaho has a combined wilderness of 4.7 million acres – larger than the US's three smallest states combined.
It's technically illegal to ride a merry-go-round on Sunday in Boise. Luckily, it's an old law that isn't really enforced.
Our state motto is "Esto Perpetua" meaning "It is forever."' The state fruit is the huckleberry, and the state vegetable is the potato, of course.
Idaho is called the "Gem State" because every known type of gemstone has been found in the state of Idaho.
This month, 'I Want to Work In' is sponsored by PPI, A Kaplan Company, the Preferred ARE Prep Provider of the AIAS.

Looking to venture to a new city after graduation? Stay tuned each month as we highlight a new city. Want to feature your city? Send an email to mailbox@aias.org.