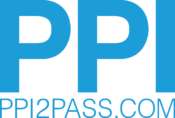 'I Want to Work In' is sponsored by PPI (Professional Publications, Inc.). Located in Belmont, California, PPI is the leader in exam preparation review materials and publisher of the ARE 5 Review Manual by David Kent Ballast, FAIA, NCIDQ. They are the Preferred ARE Prep Provider of the AIAS, and their mission is simple: they want you to pass your exam. ppi2pass.com

Last week we invited you to join us on Instagram for a firm tour of Ross Barney Architects to get a feel for what it's like to work in a firm in Chicago. This week on I Want to Work In (#iwtwi), we are featuring the top five places to eat, sleep, work, play, and study in Chicago, IL. This list will help you familiarize yourself with the city being featured in case you are interested in living and working there in the future!
top 5 places To…
Live
South Loop
After having lived in this neighborhood for the past six years, I have yet to get bored. Defined roughly to the north by the elevated tracks that encircle "Downtown"; to the East by Lake Michigan; to the South by the Convention Center and to the west by the Chicago River; the South Loop has everything from old Print Factories to some of the cities newest residential high rises. What keeps me here is the abundance of parks, access to the lakefront, and unstoppable views of the City.
Bridgeport
Just west of my alma mater, the Illinois Institute of Technology, Bridgeport has long been the home of Chicago's working class, many mayors, and a new creative scene.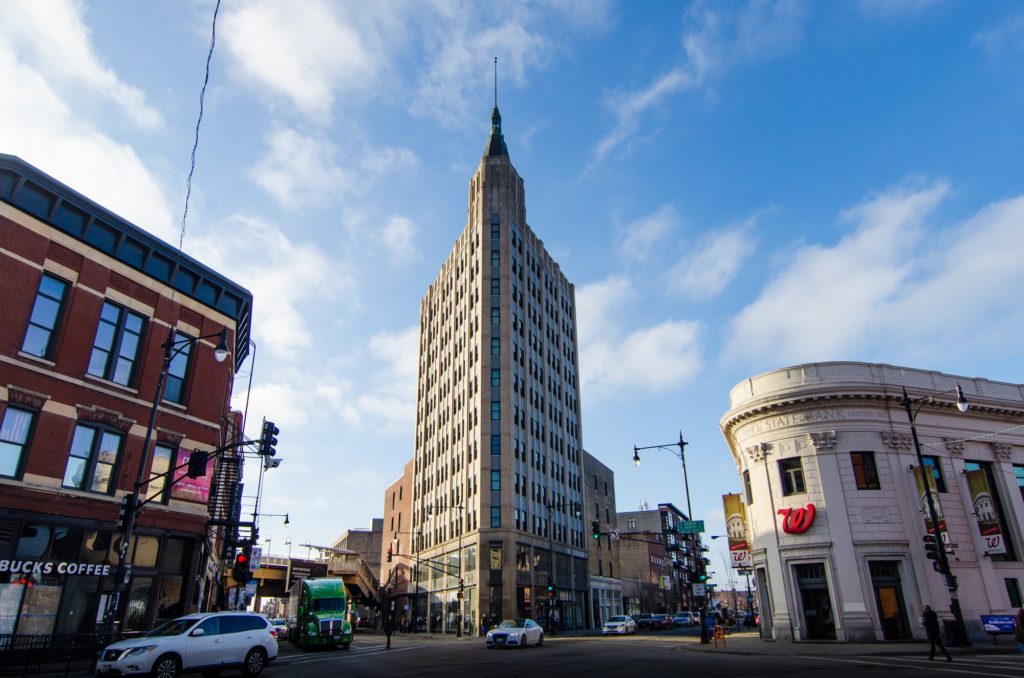 Wicker Park + Bucktown
Easily one of the cities hottest neighborhoods you get the quintessential street vibe, bohemian shops, and access to the 606; Chicago's elevated rail park.
Hyde Park / Jackson Park
A bit far from downtown, Hyde Park has quietly been a city within Chicago. The future home of the Obama Presidential Center this neighborhood plays host to one of Frank Lloyd Wright's most famous homes, the University of Chicago, and a community in evolution.
Work
Full disclosure, I currently work at Ross Barney Architects and have worked for Landon Bone Baker.
Ross Barney Architects – An architecture and urban design studio devoted exclusively to designing work in the public realm. This devotion has resulted in a compelling portfolio of work that is nationally recognized, award-winning, and full of surprises. Recent projects include the Chicago Riverwalk, Cermak McCormick Place Station, Lincoln Park Zoo East Gate, and an Aerospace Communications Building for NASA.
Studio Gang – Founded by MacArthur Fellow Jeanne Gang, Studio Gang easily tops the list of notable Chicago firms and is globally recognized for compelling projects that "connect people socially, experientially, and intellectually." Fun fact: they have a wheat field on their roof. Recent projects include the Writers Theater, University of Chicago Campus North Residential Commons, Aqua Tower, Wanda Vista Tower, and the United States Embassy in Brasilia.
Wheeler Kearns – An office "devoted to a critical pursuit and practice of architecture. We believe in the search for spaces which define a full, rich, and dignified way of life." Recent projects include the Intrinsic School, Lakeview Pantry, University of Chicago Child Development Center, and the Momentary; Crystal Bridges' new space for Contemporary Art.
Landon Bone Baker – Since 1987, LBBA has been on the front line of social change, focusing on design for a segment of the population that is often overlooked. Their work is humble, dignified, and award-winning. Recent projects include Terrace 459 at Parkside of Old Town, Harvest Commons Apartments, Dorchester Art + Housing Collaborative, and the National Public Housing Museum.
Woodhouse Tinucci – The studio's portfolio represents thoughtful designs that challenge constraints, often turning them into opportunities. Recent projects include Rosewood Park Beach Restoration, Northwestern University Sailing Center, Evanston Ice Reing and Community Center, and the University of Chicago Harris Public Policy Keller Center.
Eat
Bon Appetit said it best: "Chicago is clearly America's most exciting city to eat in right now." I highly suggest the below:
Ramen Takeya – 819 West Fulton Market
Spacca Napoli – 1769 West Sunnyside Avenue
Parachute – 3500 North Elston Avenue
Revival Food Hall – 125 South Clark Street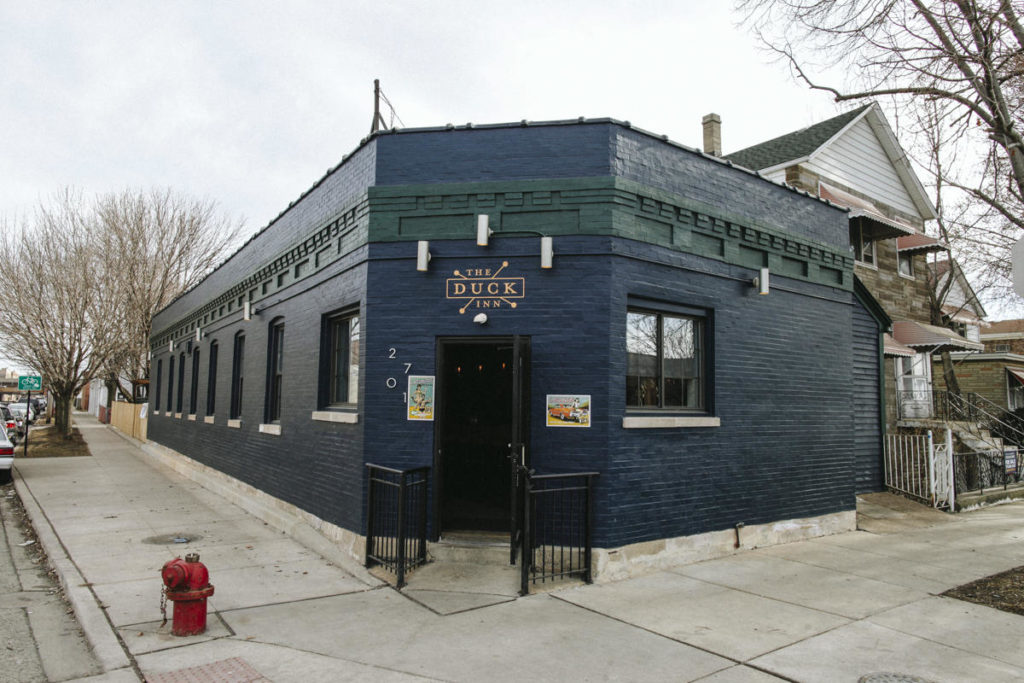 The Duck Inn – 2701 South Eleanor Street
Calumet Fisheries – 3259 East 9th Street
Play

My downtime is full of exploration, from biking the Lakefront Trail, finding restaurants in new neighborhoods, and kayaking the Chicago River; each weekend provides rich opportunities to see the City from a new vantage point and through the eyes of diverse perspectives.
Lakefront trail – 18 miles of breathtaking views of one of the worlds largest bodies of freshwater and one of the most iconic skylines.
Exploring a new neighborhood – A recent trip to Pilsen involved an impromptu tour of the neighborhood through its new breweries.
Kayaking the River – It might sound crazy, but kayaking in the river can be one of the most relaxing and eye-opening experiences; a new kind of nature-centric experience.
3 Greens Market (354 West Hubbard Street) – Cozy with a good barista and bartender.
Collectivo Coffee (2530 North Clark Street) – This Milwaukee import serves up delicious coffee and an expansive outdoor terrace.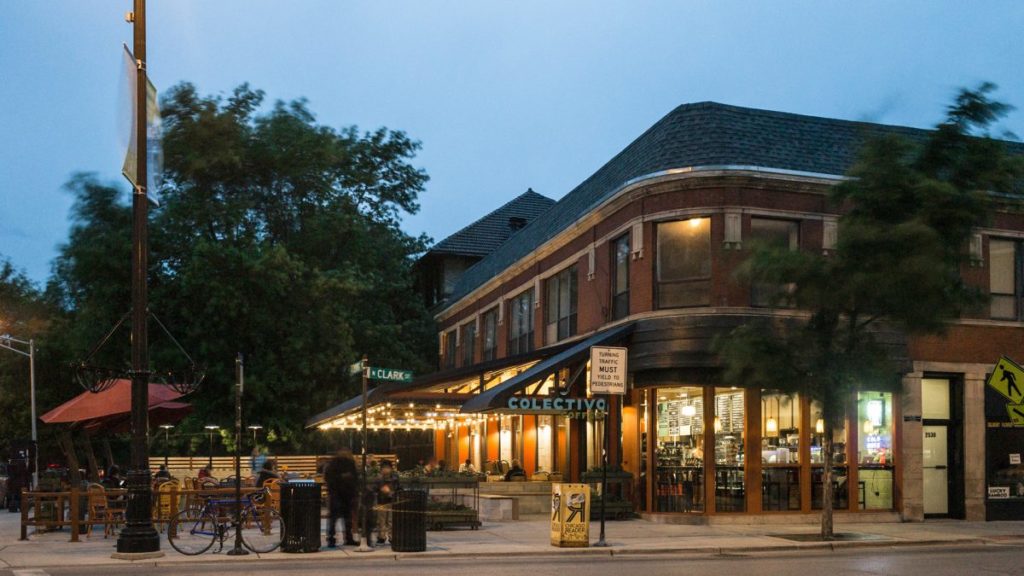 Any hotel lobby – The secret to any city is that hotel lobbies provide free wifi and often have the most architecturally inspiring spaces to study in. Take advantage of it (Chicago Athletic Club pictured below).
Meet People
Soho House (113 North Green Street) – This members club in the Fulton Market District / West Loop is focused on gathering young creatives and entrepreneurs in a converted warehouse. Find a friend to take you up to the club level or hang out on the publicly accessible ground floor.
Creative Mornings – This breakfast lecture series is specifically for the creative community. Speakers are diverse and have included architects, graphic designers, entrepreneurs, music festival producers, and activists.
Chicago Riverwalk – This one-and-a-quarter-mile linear park is the City's newest addition and features an architecturally aware aesthetic. Complete with a wine bar, kayak launch, zero-depth splash pad, floating gardens, and a fish hotel. It was also designed by my studio, Ross Barney Architects.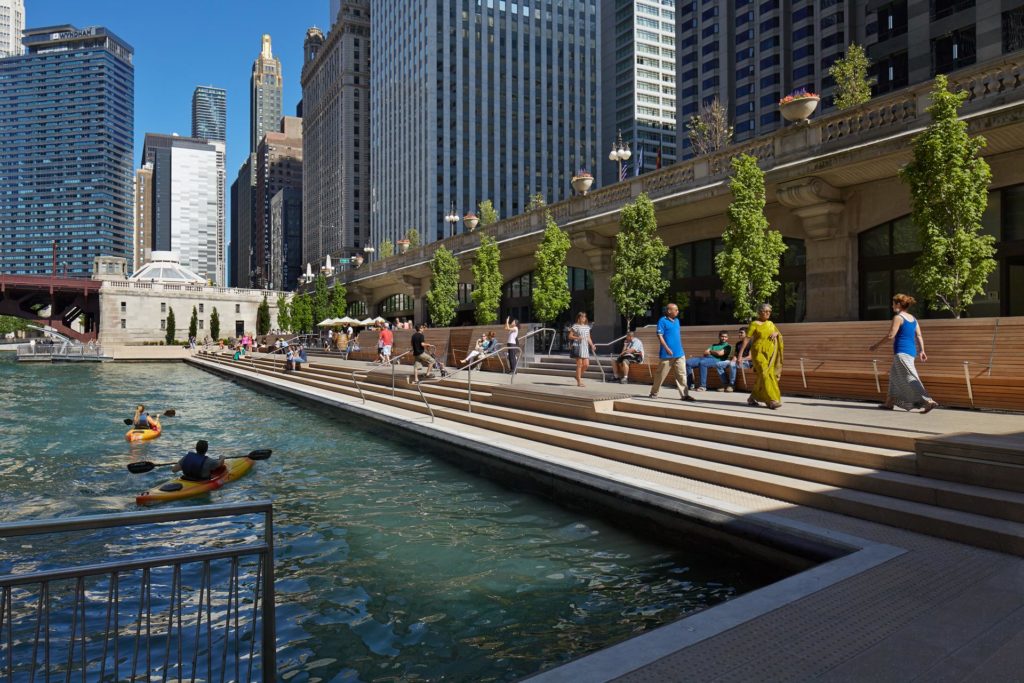 Fun Facts
Chicago is known as the "Windy City" but that has nothing to do with weather. It originated from the hot air bellowing politicians.
The city has 28 miles of Lakefront and over 150+ miles of Riverfront.
The flag of Chicago is regarded as one of the most graphically compelling. The horizontal stripes represent geographical features of the city and the stars symbolize Fort Dearborn, the Great Chicago Fire of 1871, the World's Columbian Exposition of 1983, and the Century of Progress Exposition of 1933.