Last week we invited you to join us on Instagram for a firm tour of CallisonRTKL to get a feel for what it's like to work in a firm in Dallas, TX. This week on I Want to Work In (#iwtwi), we are featuring the top five places to eat, sleep, work, play, and study in Dallas. This list will help you familiarize yourself with the city being featured in case you are interested in living and working there in the future!
top 5 places To…
Live
The Village Dallas – it's a large community of different apartment complexes that are 10-15 minute train/car ride to downtown Dallas. The staff is very helpful, there are also plenty of events put together by the complex very often. Like happy hours, social outings, and food truck socials at the outdoor space that they have, called the Den.
Parc at White Rock Lake – these apartments are highly recommended from a colleague, walking distance to DART train and also 10-15 minute drive and train ride to downtown.
The Lofts at Mockingbird Station – these are next to the bike trail and also next to the Mockingbird station train stop.
Plano and other surrounding cities – the commute into Dallas is a big factor to consider. It take almost an hour by train from Plano area, and roughly 45 minutes by car.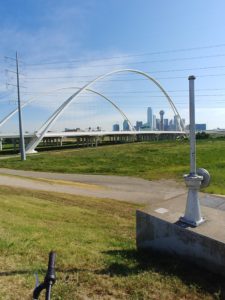 Work
CallisonRTLK is my top choice, great studio and collaborative culture. Amazing benefits toward licensure and professional development. Leadership is also very flexible and supportive. 
Cunningham Architects – small/mid size firm.
Kevin Sloan Studio– small size – Kevin Sloan is a professor at UTA, and runs his studio very similar to an architecture studio at school which is very design oriented. They do mainly landscape but take a wholistic approach to design in every project.
Corgan – large size – is in my list because I have a friend here who is very involved in the Latino architecture community, the company also hosts different events for organizations and I've heard they have a good work environment.
Jacobs – large size – I have a handful of friends that work at Jacobs, they have shared good comments about the firm, especially the travel opportunities and ability to choose different schedules.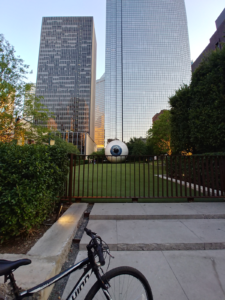 Eat
Meso Maya – good for a romantic or special dinner in the arts district downtown area.
Dallas Chop House Burgers – tasty local burgers for a good lunch.
El tizoncito on Lemmon – amazing and tasty food made in the style of Mexico City.

Play

I enjoy going in bike rides. Dallas has a very large network of trails where people jog, walk and ride bikes with away from cars. Some of them include, white rock trail, Santa Fe Trail, Katy Trail, Ridgewood trail and more.
I also enjoy going to the arts district and visit some of the museums.
I love walking around Klyde Warren Park.
Visiting the Arboretum or the Dallas Zoo.
Occasionally, I also enjoy attending plays and music performance, at either the Wylie theater, the Meyerson Symphony or the Winfrey Opera House.
Study
The AIA Dallas chapter has a good selection of material available in their library, but I mainly use my company's resources, and library. They also reimburse a large amount of the the study materials so if I need any additional ones I just buy it and get reimbursed for it.
The Starbucks on Olive St. is very good for a study spot, a group of friends and I sometimes meet there to study and work on material for exams.
I also go to the Half Price Book on northwest highway, they have tables and chairs there its a good study environment.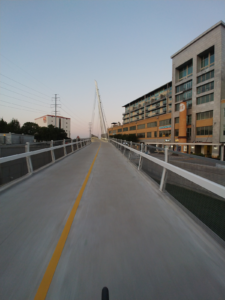 Meet People
AIA events are a great place to meet people in the architecture field.
I also like attending the annual Dallas Startup week. There I get a chance to meet people from every field starting their own businesses.
Architecture lectures and presentations by various local organizations are also a great way to meet people.
Fun Facts
A colleague first told me of the famous Bonnie and Clyde fugitives of Dallas, they lived south of what is now called Trinity Groves. There was a recent movie that came out about them "The Highwaymen" very good movie.

Dallas visitors always get surprised when they fly in to attend a Cowboys game and find out that they have to drive all the way to Arlington and back to Dallas just for the game. Arlington is roughly 30 min away but with traffic it can be a little more.

This month, 'I Want to Work In' is sponsored by PPI, A Kaplan Company, the Preferred ARE Prep Provider of the AIAS.

Looking to venture to a new city after graduation? Stay tuned each month as we highlight a new city. Want to feature your city? Send an email to mailbox@aias.org.