Location
Jacksonville, FL
Population
1,631,488
Featured By
Nilanjana Bandyopadhyay Snyder, AIA, NCARB, LEED AP
Their Story
After a seven-year stay in Manhattan, my family and I decided to move back south and Jacksonville, FL beckoned us. My husband and I had visited Jacksonville in 2006 and the eclectic vibe of the city and its surrounding towns appealed to us. We jumped at the opportunity when Gresham Smith offered my husband a job in their healthcare studio and, as luck would have it, I was offered a job shortly thereafter. This southern city is nestled among abundant waterways and has an economy that's growing by leaps and bounds.
What sort of job opportunities are available?
Jacksonville is the most populous city in the state of Florida and bounced back well after the recession. The growing city offers significant career opportunities and is home to both international design firms and medium to smaller-sized firms. The firms are located all across the area and are great at helping architects pursue their interests and specialties regardless of their experience level.
Tell us a little about your internship and exams. What were your successes/failures?
I started my internship in Napa, CA, proceeded to gain experience in Charleston, SC and New York City, and finally wrapped it up in Jacksonville, FL. In every location, I sought out projects and experiences that would help me grow so I would have all the necessary skills to work in any market, whether it be commercial, healthcare, high-end retail, higher education, mixed-use or multi-family residential. Along the way, I deemed my "failures" as "learning opportunities" and celebrated them just as much as my successes. I zeroed in on healthcare design after all the opportunities Gresham Smith provided me.
What kind of firm support did you have for the licensure process?

Gresham Smith's support was one of the biggest reasons I was able to wrap up my exams quickly after starting my position here. The continuous encouragement, exam fee reimbursement and flexibility with work commitments accommodated my expedited exam schedule and I greatly appreciated it. The company provided easy access to study material and ARE / IDP support groups, which helped encourage smaller, break-out study groups. Having a company vested in my professional success further motivated me to complete my exams.
What is there to do during nights/weekends?
The fun continues when the sun goes down in Jacksonville! The city boasts music festivals, craft breweries, the Jacksonville Symphony Orchestra, the Historic Florida Theatre and more. Regardless of your interests, there's something for everyone.
One of my favorite activities is Porch Fest, a community music festival in Jacksonville's revitalized Springfield District. Dozens of bands perform on porches and front lawns in a giant block party setting that draws both locals and out of town visitors. I also enjoy visiting the King Street District in Riverside, which boasts numerous breweries, eclectic restaurants, rooftop bars and museums, often housed in historic buildings. There are numerous beach spots dotted along the riverside, which makes it a fun place to unwind after the work week.
How did you manage to make friends the first few months?
The diverse social fabric of the Jacksonville community means you will meet people from all walks of life and the city's easy-going nature makes is easier to make friends and build a professional network. After living in the area for a short while I got involved with a variety of professional organizations, which helped me network and socialize.
The numerous local architectural groups, such as Emerging Design Professionals, Women in Architecture and the American Institute of Architects, organize regular events to help professionals with career development. These active groups aren't only for young architects; they provide support whether you are a summer intern or a veteran architect.
How did you find your apartment?
Gresham Smith really does take care of their employees! Upon being hired we were immediately connected to a reputable realtor who helped us find our apartment. Moving to a new city can always be a little challenging, but the company and the leadership eased our fears by offering their support.
What is your favorite part about Jacksonville?

I was raised in Mumbai, India and lived in New York City, so I've always been a city girl at heart. I was initially apprehensive about moving to Jacksonville, but after living here for a little while I realized that Jacksonville offers big city opportunities with a small city vibe. The music, arts and culture, historic districts, and eclectic diversity give Jacksonville an essence like no other. The vibrant nightlife, beautiful sandy beaches, spectacular sunrises and outdoor lifestyle provide the perfect place to live whether you are starting out as a twenty-something or raising a family.
This month, 'I Want to Work In' is sponsored by Gresham Smith, a Premier Design Alliance member of the AIAS.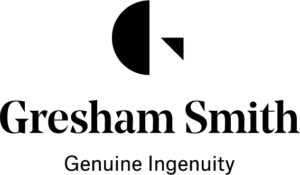 Looking to venture to a new city after graduation? Stay tuned each month as we highlight a new city. Want to feature your city? Send an email to kimberlytuttle@www.aias.org.