Last week we invited you to join us on Instagram for a firm tour of KCCT Architecture to get a feel for what it's like to work in a firm in Washington, DC. This week on I Want to Work In (#iwtwi), we are featuring the top five places to eat, sleep, work, play, and study in Washington, DC. This list will help you familiarize yourself with the city being featured in case you are interested in living and working there in the future!
top 5 places To…
Live
1.Capitol Hill/H St. NE – This is my neighborhood! Picture quintessential DC: painted row homes, old trees, and brick sidewalks. It's up and coming, rent is affordable, and has easy access to grocery stores. The closest metro station is Union Station, so it's on the red line (which is a plus), and that's also a hub for buses and trains. It's walking distance to the Capitol Building and National Mall, which is my favorite perk! There's also lots of good restaurants and bars as you travel east down H St., which is an easy walk, but there's a free street car too.
2.Capitol Hill/Eastern Market – Another popular place to live with relatively affordable rent. Very similar to my neighborhood, but has its own hub of grocery stores, bars & restaurants, and is located closer to the Eastern Market metro station (orange, blue, silver lines). Eastern Market is also an actual market, which is a popular place to go!
3.Columbia Heights – Another popular up and coming neighborhood. Relatively affordable rent and is on the green/yellow line (Columbia Heights metro station). It's an interesting vibe, as it is gentrifying, but there is still a lot of character. It's also adjacent to Mt. Pleasant, another great neighborhood.
4.Arlington- – Note: this is in Virginia! A lot of people choose to live here because it's more affordable and still very easy to get into the city, as it is right over the Potomac. It's funny though, the barriers of a State line and the river are often a deterrent to people when making weekend plans. But don't be afraid! It's a nice place!
5.Navy Yard – This is a newly popular place to live as new apartment buildings are constantly popping up. These new buildings are nice and come with a lot of amenities, but can be expensive! If you move here outside of a peak time check it out, I've heard of people finding incredible deals here.
Work
According to DCArchitects.org, the top 5 firms in the city are:
1. Gensler
2. Studios Architecture
3. Shalom Baranes Associates
4. OTJ Architects
5. Page
You can read more about them and see the complete list of 10 top firms here.

Eat
1. Bullfrog Bagels – Bacon egg & cheese on a plain bagel, my Saturday special.
2. Farmers & Distillers – Big brunch place. You must go. Also great for happy hour.
3. Purple Patch – A Filipino American fusion in Mt. Pleasant.
4. Emissary in Dupont – Light fare & good wine. Good for groups but also great to eat at alone.
5. Copy Cat Co. – An H St. specialty. Chinese street food downstairs, popular bar upstairs. I frequent for dumplings at 2 am don't judge.

Play

1. The National Mall – Again, my favorite place in the world. Great for running, reading, outdoor games, and is of course lined with monuments and the Smithsonians.
2. The Wharf – This is a really cool area that houses one of our main concert venues, The Anthem, a lot of great restaurants, and offers seasonal attractions like a s'mores pit and outdoor ice skating rink.
3. Rock Creek Park – Another great place to be outside. Bonus points if you can find the Capitol ruins, which were left here after a 1958 expansion.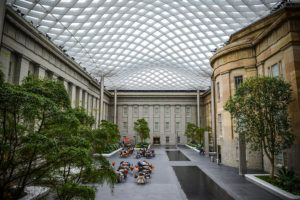 4. Metro Branch Trail  – Great place to run and check out graffiti. The trail runs along the red line in northeast DC.
5. Comedy @ Big Hunt – Big Hunt is a bar in Dupont that offers (really good) free comedy on Wednesdays and paid shows on the weekends.
Study
1. National Portrait Gallery courtyard – You can be outside without actually being outside, and if you need a quick burst of museum inspiration pop into the exhibits.
2. The National Mall – Unrelated to studying, the National Mall is just one of my favorite places in the world. It's vibrant with all the people and activities happening, but large enough that you can always find some level of solitude.
3. Emissary in Dupont – As noted in the Eat section, great place for eats, drinks, and totally cool to eat alone and study. If you like a glass of wine to supplement your studying or extracurricular work like I do, this is the place.
4. The library! – DC has been investing substantially in its library system over the past few years, so there are some great resources here.
5. Pitango in Adams Morgan – Another popular spot for light fare and drinks, but also has gelato.

Meet People
1. Sauf Haus – My after-work bar! A beer garden with delicious giant pretzels.
2. Public Bar – Popular for the recent grad crowd.
3. El Centro – Sweet marg deal at happy hour.
4. Blue Jacket – Located in Navy Yard. Build your own flight and try some really interesting beers.
5. Little Miss Whiskey's – My favorite bar on H St., a regular for my roommates and I.

This month, 'I Want to Work In' is sponsored by PPI, A Kaplan Company, the Preferred ARE Prep Provider of the AIAS.

Looking to venture to a new city after graduation? Stay tuned each month as we highlight a new city. Want to feature your city? Send an email to mailbox@aias.org.