Each month, the AIAS highlights the outstanding dedication and accomplishments of one of its members. The Chapter Leader of the Month can be a Chapter President or any member who has shown tremendous leadership.
Adeline and Angela are both in their last year of architecture at UC Berkeley and are the current chapter Co-Presidents. Adeline has been standing president for AIAS for 2 years, while Angela joined just recently to help
 Adeline and was formerly the J.E.D.I Lead. Now over halfway through this in-person semester, they have already implemented many ideas and events to build community and share resources for their chapter, and are excited to continue serving and connecting with their chapter for the remaining weeks.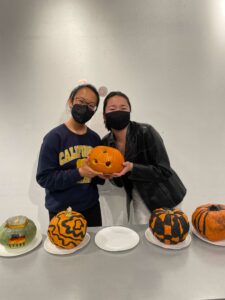 Last year they were able to revamp the chapter at UC Berkeley by: re-connecting it to National AIAS and reinvigorating the chapter's presence at Berkeley, helping the chapter multiply in members, hosting weekly social and professional events, and starting a buddy program for people within and outside of architecture. While last year's events were entirely virtual, UC Berkeley AIAS was able to host events to nurture community within the architecture department while encouraging students' careers through virtual firm tours, portfolio critiques, and virtual networking. This semester, taking advantage of the in-person opportunities, their AIAS Chapter launched its board internship program to connect students with AIAS Officers to promote the longevity of the club. Currently, the chapter is preparing to elect next year's Board, allowing for a smooth
transition over the Spring semester. Angela and Adeline are thrilled to continue to support AIAS in the upcoming semester as mentors!
Their West Quad Director, Nicholas Romero, has this two say about the pair: 
"These two have been a powerhouse spearheading the year with great programs that benefit all the students at their chapter. Besides their fantastic eye-catching graphics, these two worked together to curate a year that focuses on community building, professional/career development, and educational development. A few of the many exciting events they have is their "Archiparty" where they are having a social with NOMAS, CASA, APX, and SHAC as well as a grad student panel discussing their experience with grad school and what to do post-college. All speakers came from different fields such as Architecture, Urban Planning, and Landscape Architecture. I have no doubt that these two will continue to push their chapter forward as they are exceptional leaders!"
Both are looking to work post-graduation in somewhere that's hopefully not remote, and will continue to support their AIAS chapter as future alumni!