After two years of virtual conferences, the Association of Collegiate Schools of Architecture hosted their Administrators Conference in Boston, Massachusetts! From November 3-5, current and future educational leaders came together for in-person sessions and roundtables to collaborate, share ideas, and discuss. The theme of the conference was Pathways to focus on creating educational environments in which those who want to "change the world" can see themselves doing so through architecture and urban design as professionals and educators. As the National Vice President, one of my roles is to sit on the ACSA Board of Directors as the Student Director. The goal is to provide the student perspective and advocate on behalf of AIAS students in board meetings and ACSA conferences.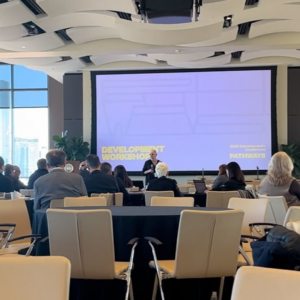 Day 1 started with Development Workshops with deans, chairs, development officers, and other educational leaders across the country. It was an excellent opportunity to hear insights from and stories of these leaders as well as provide a student perspective to the conversation. To officially kick off the conference, the Opening Keynote was delivered by Frances Bronet, President of Pratt. The keynote asked the audience, "Who wants to be a President anyway?" and followed Bronet's path toward her current role. The night ended with an Opening Reception where everyone mingled and networked with one another on the Northeastern University campus.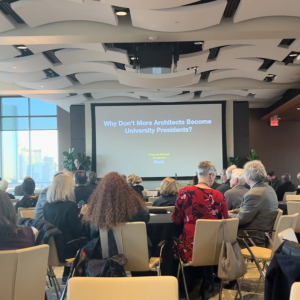 Day 2 was jam-packed with different sessions, from Challenges to Higher Education to Respatializing Architecture Education to Building the Faculty Our Discipline Deserves. The topics and questions brought up in Challenges to Higher Education ranged from shortening the length to a degree, removing requirements for professional or (and in some states) post-secondary degrees for licensure, and new apprenticeship programs. Respatilizing Architecture Education focused on how two years plus of remote/hybrid teaching and learning changed our perspective on these "alternative" delivery formats and the accessibility and affordability of professional education. The 2022-23 ACSA Leadership Committee led Building the Faculty Our Discipline Deserves, which focused on new faculty positions–fellowships, visiting positions programs advancing young, contingent faculty into tenure-track or other forms of permanent teaching positions, impacting our classrooms and curricula. The day ended with a reception for attendees at a local Boston design firm called Utile.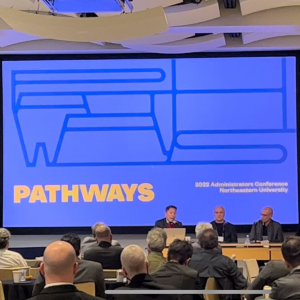 Day 3 was mixed with morning sessions and the Board of Directors meetings. The first session Forging New Alliances was moderated by Pascale Sablan, NOMA President-Elect. The session started with presentations by: The Architecture Lobby with Natalie Leonard & Sben Korsh, Dark Matter U. with Tya Winn, and US Architects Declare with Joyce Hwang. The following session Models of K-12 Outreach was moderated by Emily Grandstaff-Rice, AIA President-Elect. The session showed examples of high school, after-school, and summer classes; mentorship programs; pipeline initiatives, and independent place-based studios and opportunities. The panelists included U. Michigan with Anya Sirota, Boston Society of Architects with Taylor Johnson, NOMA with Tiffany Brown, and Territory NFP with Helen Slade. After those exciting sessions and a well-deserved lunch break, the Board of Directors went into an afternoon meeting.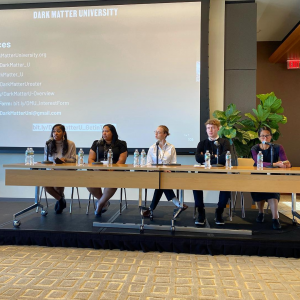 Day 4 continued with the Board of Directors meeting. Like the AIAS, the Board of Directors discusses important matters and topics within the organization.
To learn more about the connection between ACSA and AIAS, reach out to the National Vice President at vicepresident@aias.org