Two weeks ago I had the opportunity to attend the National Association of Minority Architects' annual conference and 50th anniversary celebration in Detroit, Michigan. This was NOMA's first-ever hybrid conference. All of the nearly 80 (!!) sessions and workshops, as well as the annual Barbara G. Laurie Student Design Competition, were held virtually; two keynotes and the NOMA Awards Banquet were held in person and streamed online; and several tours, luncheons and the 50th Anniversary Gala were held solely in person. This conference was an incredible resource of knowledge and advocacy, a beautiful celebration of NOMA's success over the past 50 years and a touching tribute to the founders of the organization, who convened for the first time in 1971 in Detroit. Not only was this my first NOMA conference, it was my first time to meet Leslie Epps, the NOMAS Student Representative, and Montre'ale Jones, Leslie's protege and the AIAS's new NOMA Liaison, in person!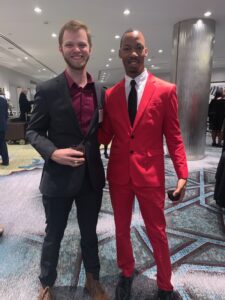 I'm not sure if my subtle exclamation points above conveyed just how impressive 80 sessions over a course of four days is. This conference held content to interest anyone; many sessions were focused on racial justice and celebrating minority architects, others were focused on climate change, universal design (I especially enjoyed Ganesh Nayak's discussion of how designers perceive and react to "otherness" through architecture in his session "Equitable Design: Building for Disability Differently"), specifying cold-formed steel hybrid systems, and more. Not only was the range and depth of these sessions incredible, they are all available to be watched and re-watched on the conference website, making the conference a model for the accessibility of resources.
As for the in-person events at the conference, one word can describe the focus: celebration. A celebration of the progress Black and other BIPOC architects have made, of the success and growth of NOMA over the last 50 years, of their new status as one of the six "collateral" organizations of architecture, a proposal to which the AIAS, AIA, ACSA, NCARB and NAAB all agreed earlier this year. Many awards were won, and attendees took time to cheer for every NOMA member that was recently licensed as an architect. Despite all of this celebration, there were constant reminders of how far NOMA and the architecture community as a whole have to go. The deadline for the 2030 Challenge, which represents the goal of doubling the number of Black licensed architects in the U.S., is only eight years away. The final keynote of the conference, given by Mario Gooden of the Black Reconstruction Collective, served as a reminder that unless our organizations and cultural institutions are working intentionally to include minority voices and represent BIPOC artists, entrepreneurs and architects, they are actively working against the progress of racial and cultural equity. 
Thank you so much to NOMA for inviting me to the conference, and for welcoming my thoughts and perspective with interest. I'm excited to see what NOMA will do next, and what our organizations can accomplish together!