Close to 300 architecture and design students from across the south and Puerto Rico convened in Savannah, Georgia for the American Institute of Architecture Students (AIAS) South Quad Conference March 31- April 3, 2016. The Savannah College of Art and Design (SCAD) hosted the annual regional meeting with the theme: Integration.
South Quad Director Sarah Wahlgren was interested in getting to know SCAD's curriculum and focusing on the theme of the conference. She said, "One of the best parts of the conference was the collaboration between AIAS and NOMAS to put on two panels: Women in Architecture and Integration: Strengths that lie in the differences."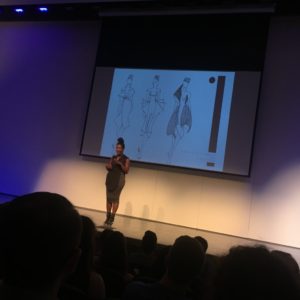 Keynote speakers included Corgan architect Chuck Armstrong, FAIA, and Merline Labissiere, a SCAD fashion graduate who originally started off in architecture and was  a contestant on the 14th season of Project Runway.  
South Quad Conference Chair Adam Drummond said some of the more popular sessions included panel discussions on production design, theory in architecture, a sketching workshop led by Hsu Jen Huang and the design charrette led by Merline Labissiere.
Drummond said his favorite part of the event was roll call. He said it's great "seeing the schools come together to celebrate, especially the conga line with Puerto Rico. South Quad is not only the loudest quad but dare I say the quad with the most spirit. Seeing students bond gave me a glimpse of the future of the profession of being one where individuals come together to create big differences through architecture."
Wahlgren said along with being one of the largest South Quad Conferences ever, it was incredibly compact and well run. "SCAD's faculty and administration was a huge part of making the conference such a success. From providing on-campus venues, to leading workshops, to sitting on panels, they were very engaged and active in the conference. SCAD really set a great precedent for all Quad Conferences to come!"