Heat. Hospitality. Charm. Drawl. These words likely come to mind when you think of the south, and just as the south has a distinct culture, so does the South Quad of the AIAS. Read more about what makes the South Quad so unique from some of the leaders from the past few years.
"The South Quad gets its pride from being the "loudest quad." This isn't just in volume, but also in spirit.
South Quad members are passionate about their peers and proud of where they're from. They thrive on defending their honor and dare you to challenge them to a Quad Chant competition.
Being brought up in the AIAS through the South Quad gives members a strong back bone, a voice they can be proud of, and the humility to lead through acts of service." -AIAS 2016-2017 President Sarah Wahlgren, Assoc. AIA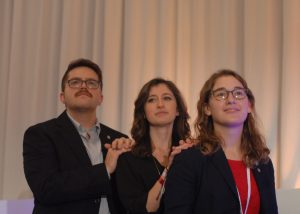 "To me, when I think of the South Quad, I'm filled with pride… a sense of joy and reverence to be a part of something – a feeling of deep satisfaction for the group's accomplishments. I'm so proud that four out of the last five quad directors were present at the Grassroots opening ceremony, not to mention the legacy of south quad directors as national vice president almost exclusively for ten years from 2006-2016. There is an indescribable passion and drive in our quad that directly ties into friendship. As I grew more involved in AIAS, I realized that the south quad is unique because of its southern culture. We have a tendency to embrace people quickly and befriend people easily. So, as the 2016-2017 South Quad director, I feel it's normal to have a close friendship with the past two directors, and look to the two or three prior to that as not only role models for my job this year but for my personal life and career. Our quad is a family that not only nurtures leaders, advocates, and academics, but friends, confidants, and mentors. What a gift it is to be a part of such a powerful body of people!" -AIAS 2016-17 South Quad Director Jenn Elder

"The South Quad is always considering the betterment of the collective whole. We are loud, proud and sometimes wild, but we are only as strong as the group. I have seen the growth of great leaders, speakers, designers and change makers thanks to the support and camaraderie within the South Quad. Perhaps what sets us apart is the way we display our passion. Our passion is fiery, true and untempered, sometimes to our own detriment, but we wear our heart on our sleeve. We're proud to be one, and we're proud to be the South Quad." -AIAS 2015-2016 Vice President Joel Pominville, Assoc. AIA
"During my 4th year of architecture school, I served as president of the Tuskegee University AIAS Chapter. I attends my first Grassroots Conference during the summer of 2011, knowing no one and without a clue as to what AIAS was truly about. I walked away from the conference with friends and connections; however, it wasn't until Forum 2011 that I was introduced to the South Quad Cultural Bond.
A fellow chapter member and I boarded separate planes from our hometowns and met in Phoenix, AZ for our first FORUM. Our nervousness quickly faded away after we met students from Clemson's chapter, yes Joel Pominville and Nick Tafel, and they told us all about the numerous conferences they attended and the amazing South Quad Conferences that we had never experienced. We were stunned as to why we never attended these regional conferences and promised to be present at the Spring 2012 conference hosted by UNC Charlotte.
To no surprise our first Quad Conference was nothing less than amazing! The southern culture is always welcoming, free spirited, and memorable – 300+ attendees and all are ready and welcome to become acquainted with the next. Not only did we make new friends, we created bonds for encouragement during chapter struggles and we always had chapters in other states rooting for our success.
Over the years Tuskegee and Auburn students drifted apart, with no common ground to bring us together considering we were only 20 minutes away from one another. Because of the South Quad, we became avid supporters of one another. There wasn't a conference we went to or and event we hosted where we did not check in with the other. Even as AIAS National Vice President, I first checked for Tuskegee to be in attendance and Auburn came in as my next check point. We built a bond that we valued through our AIAS and South Quad tenure.  
South Quad is a bond like no other and my first memories of AIAS will always begin with the South Quad, Quad Conferences, Brent Castro chanting "Who's Quad? Our Quad, What Quad? South Quad, Clemson friends, Auburn neighbors, and just the spirit of kind people. South Quad was the turning point in my college career that I'll never forget." -AIAS Vice President 2013-2014 Jennifer T. Matthews, Assoc. AIA