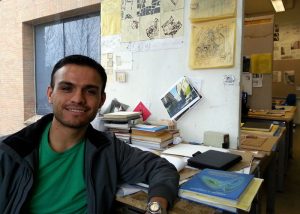 Miguel Mendez
University of Texas – Arlington
Bachelor of Science in Architecture
Third Year
Describe your studio culture.
In my studio we all have the same love for architecture and at the same time enrichment and growth every day.
Give one tip that has helped you succeed in studio.
Optimism, hard work, friendships and AIAS is what has made my career very exciting.
What motivates you to work hard in studio?
Friendly competitions with studio mates and self improvement always pushes me to go farther and to try and perform at my very best.
What aspect of your studio experience do you think will help you get a job?
Project development, and succesful completion of projects is a valuable part of studios that i believe will help me greatly in my future job.
What can professors do to create a helpful and supportive studio environment?
Professors that teach with a passion for architecture and get involved interacting with students in a professional and casual environment are the best when it comes to helping students and supporting them in reaching their goals.
What should a high school student understand about studio at your university?
Architecture studio is more than a classrooom, it becomes a temporary house which is full of special events, learning, and fun.
What can AIAS do to help improve your studio experience?
AIAS is a great organization, one thing that AIAS can do to improve the studio experience is to promote a little bit more the things that it offers for students so that more people can get involved in the great things that AIAS has to offer.
What would be in your ideal studio care package?
An ideal studio care package would contain a first aid kit, coffee, many varieties of tea, an owesome out of the ordinary calendar that actually works, and throw in there a couple of essential architecture books that should be in every archtiecture studio.
I love studio because:
I love studio because it contains a little bit of everything; the social, the not so social, the dedicated few, the slackers and of course those who just straight up love architecture for no reason! Studio is where you get to be yourself, learn from others and get better every day.