The American Institute of Architecture Students (AIAS) is celebrating the 60th anniversary of student excellence in leadership, service, and design. In honor of our 60th year, the AIAS is excited to share 60th: Legacy, an ongoing weekly celebration of and thanks to our alumni sponsored by Professional Publications, Inc (PPI). PPI is a publisher of professional licensing exam materials since 1975 and wants to recognize those who have helped the AIAS achieve 60 years of success.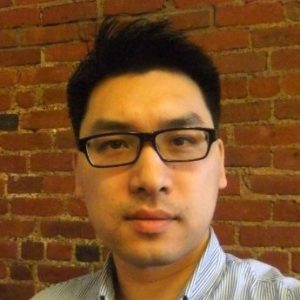 Name
Alex Ho, Associate AIA
Organization
YouthBuild Boston
Title
Designery Program Manager
Connect
Bio
In 2013, Alex resigned from an architecture firm that made him unhappy. Without a clear game plan in mind, he decided to try exploring the design discipline in academia. He soon discovered that helping students craft and curate their own vision then translating that to tangible spatial forms was tremendously rewarding. After taking several education-centric positions at the Boston Architectural College, he started working at YouthBuild Boston and began managing an architecture and design program for high school youth. In 2015, Alex received the "Excellence in Applied Learning Through Practice" award upon graduation from the M.Arch program at the Boston Architectural College. Today he continues to guide the growth and development of the design program at YouthBuild Boston (the Designery), teach at the BAC, and is one of the leaders in community design practices and service at YouthBuild Boston.
ARE Prep Tip: What is one piece of advice that you would give to those starting to test?

The best thing you can do is to start.
What and/or who shaped you into who you are and what you do today?
All my previous employers are responsible for shaping me, but in particular, my current employer has enabled and empowered me to move forward into a realm of unknown and discovery about myself and my desires for this profession. My studio instructors molded and shaped how I think, perceive space, and equipped me with techniques of graphics and communication. My thesis adviser, Robert Hsiung (FAIA) had a hand in it too!
How can someone best change the world?
There are so many opportunities, at different scales, to change the world. It all depends on your own choices and how you spend your time. For example, I might stand a better chance changing the world by interacting with other non-profit community groups, as opposed to playing Xbox at home. Though I make time for both.
How do you define work-life balance and how is it achievable?
I believe work-life balance is an urban myth. The entire phrase depends upon the absurd assumption that your life is separate and distinct from your work. Do you stop living once you arrive at your workstation at 9am? Our lives are much more intertwined than the hours in and out of a worksite. I daydream about the kitchen island I'm going to build in my new condo while sitting at my desk. I also think about revising details on work related projects while at home on a Sunday afternoon. Fundamentally the question seeks a formula that will quantify hours spent in an office vs. hours spent outside. There is no formula. Just live, according to your evaluations and values of your actions as it pertains to achieving your goals.
How can someone be a better designer?
Being humble and willing to learn from others will only reward you with a deeper and wider base of knowledge. Through practice, this will allow you to be a better problem solver. Also, try wearing black….
What is one tip you would give yourself in your 20s?
Dear young Alex, stop trying so hard to be "cool", or convincing others to think that you're "cool." Rather, you should go learn a new language, or a new instrument, or how to weld, or fine carpentry, or sail a boat. Also, you need to tell your parents you love them more often.
What is one decision or action you made in school that has influenced your trajectory?
Taking a TA position for a first-year studio made me realize how I like to judge other people's work! It also made me realize my inner desire to help other people succeed. This is the biggest trajectory change that has influenced my view on the practice of architecture today.
If you, or another AIAS alumni you know, deserves recognition for their contribution to the profession and society at large, please use the link below to nominate them for this honor.