The American Institute of Architecture Students (AIAS) is celebrating the 60th anniversary of student excellence in leadership, service, and design. In honor of our 60th year, the AIAS is excited to share 60th: Legacy, an ongoing weekly celebration of and thanks to our alumni sponsored by Professional Publications, Inc (PPI). PPI is a publisher of professional licensing exam materials since 1975 and wants to recognize those who have helped the AIAS achieve 60 years of success.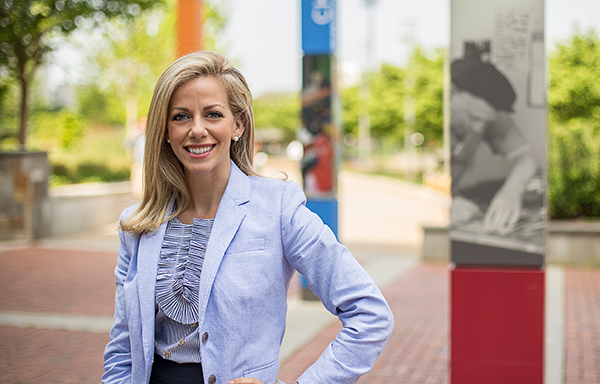 Name
Ashley Clark, Assoc. AIA, LEED AP
Organization
LandDesign, Inc.
Title
Director, Strategic Development + Communications
Connect
Twitter | Instagram | LinkedIn
Bio
Ashley is an engaging and collaborative professional who is passionate about communicating the value of design. This passion has led her to a career in communications strategy and development and has contributed to her recognition as a leader within the design industry. Ashley is a Director at LandDesign, a national design firm who creates places that have a positive impact on their communities. She is a key part of the corporate team responsible for strengthening the LandDesign brand both internally and externally, developing strategic initiatives to advance the practice and leads a team that creates a variety of communication media for the firm. An Alpha Rho Chi recipient, Ashley served as one of the youngest members ever to the AIA National Board and Executive Committee, and is the only graduate of the School of Architecture at UNC Charlotte to be recognized with the Outstanding Young Alumni Award.
How did your experience with AIAS help you to achieve your goals?
As a first-year architecture student it quickly became evident to me that I was a bit of misfit in the world of architecture…. I had not dreamt of creating buildings, I didn't know who Frank Lloyd Wright was (the horror!!) and I liked color (black is just not my thing…). All of this aside, I struggled to understand the studio culture: why people wanted to be in studio all the time. I got the excitement/creativity part, but what I didn't get is that we were supposed to be learning how to design places for the community, but there was a lack of interest in engaging the community. At this time, the AIAS (American Institute of Architecture Students) had started a movement to expose the negative effects of studio culture and were working to engage students in talking about this and working with schools to monitor the health of studio culture as part of the accreditation process. I got involved in AIAS because of this and got to be part of seeing the accreditation process altered in this regard. The experience with AIAS exposed me to more peers who felt the way I did, and gave me first-hand experience in understanding the power of creating a national conversation across the profession.
What and/or who shaped you into who you are and what you do today?
My experience with AIA has had impact beyond what I thought it would when I first got involved, and even as I stayed involved. When I returned to LandDesign, the timing was great to support the firm in developing a new strategic plan and supporting the Vision of our new President, Rhett Crocker. He brought new energy to the firm to fuel our growth, and I saw an opportunity to leverage my experience and knowledge from being part of the AIA Repositioning and other strategic efforts to support the development of our strategy. Working closely with our leadership and Director of Strategic Growth, Deborah Miller, I've been empowered to really set the foundation for some cultural shifts within the firm that I believe will be key to our future success. The opportunity to leverage my collective experiences as an advocate for great design and even better people is extremely satisfying. And, it just proves that you never know how the opportunities you have to engage the profession will come back and impact your career.
How can someone best change the world?
Patience. Change is cultural and habitual, and you cannot ask people to personally change if they don't need to, and you can't expect a large group of people to change at the same pace.
How can someone be a better designer?
People, more than anything, can teach you so much about being a better designer. How they use places, why they buy things, and what environmental cues impact their decisions. These are the things that really impact how people use their buildings and enjoy their communities, and the industry as a whole needs to remember that.
What is one tip you would give yourself in your 20s?
I learned and grew so much in my 20's, and not because everything I did was awesome. I think it is so important to not be afraid to be wrong, or try things and fail, but it's tough to have the confidence at this point in your career to take risks because the knowledge and expectations of your professors or firm leaders can be intimidating. In hindsight, I believe in this industry, being a risk taker, speaking up with your ideas and trying things are some of the most admirable traits for young designers to have, and help you standout.
How have you overcome unforeseen challenges through your career?
I was fortunate to graduate at the height of the real-estate bubble when everyone had multiple job offers. This also meant I was a prime candidate to lose that job a few years later when the economy crashed. In hindsight, it was one of the better things to happen to my career, but at the time I felt deflated like I had failed. For a year I did some freelance design work and returned to my college job part-time while taking on "professional networking" to determine if architecture was where I really wanted to stay. I would have a couple of coffee meetings with friends/mentors which lead to having coffee, lunch or drinks with someone new several times a week. It was an incredible way to meet new people in the community, folks I now work and collaborate with. It helped me understand the real estate community from another angle, and meet a lot of people involved with other aspects of real estate development. I also got more engaged with AIA during this time, as well as other organizations, which only further increased my networking capacity and industry knowledge. It was relationships during this time that have been instrumental in getting every job I have had since.
How do you define work-life balance and how is it achievable?
I really think this is all about how you think about what "balance" is for you. I personally don't approach work-life balance as something that happens day to day, or that time is being split fairly all the time. I just don't think that is reasonable for people who are passionate about the work they do. For me, it's about pausing for a moment, maybe once a month, to be conscious of whether anything feels like it's not getting my attention. There are weeks at work where I have commitments or deadlines, or projects that particularly excite me. But there are weeks when my family needs me, or I need to unplug and disconnect in order to reset. And frankly, as I get older, I've gotten over the guilt of feeling bad if I do so. I also think it is important to have a support system that includes people you can count on for mentorship/support for both professional and personal needs. As someone who has always been extremely independent, asking for help is difficult. But becoming a parent has made me very conscious of this, and fortunately, my independence doesn't come with a side of "control freak", and being OK with not doing everything has been key for me to maintain what "balance" means for me.
What is a decision or action you made in school that influenced your trajectory?
In hindsight, the fact that I picked up on my strengths and weaknesses in how I approached my studio projects early on, ended up being what helped me differentiate myself and still be successful. I connected with the fact that when it came time to talk about our work, the students with the best ideas and work struggled to effectively convey their ideas. They had been up all night obsessing about a model, or drawing, and over the course of the project, not taken time to think about why they were making certain design decisions. This is where a long-known problem for the design community as a whole clicked for me. We have all these extremely talented architects and designers, but more often than not, they struggled to effectively communicate their idea and why their work reflects it. Once I figured this out, I spent a lot of time thinking about how I would lay my drawings out, how I would pin up my materials for a review, and what I was going to say – always going back to that original idea I was exploring in the first place and how each decision was based on this. When I graduated, I received the book award for architectural presentation – something I value as a testament to my effective communication.
If you, or another AIAS alumni you know, deserves recognition for their contribution to the profession and society at large, please use the link below to nominate them for this honor.