The American Institute of Architecture Students (AIAS) is celebrating the 60th anniversary of student excellence in leadership, service, and design. In honor of our 60th year, the AIAS is excited to share 60th: Legacy, an ongoing weekly celebration of and thanks to our alumni sponsored by Professional Publications, Inc (PPI). PPI is a publisher of professional licensing exam materials since 1975 and wants to recognize those who have helped the AIAS achieve 60 years of success.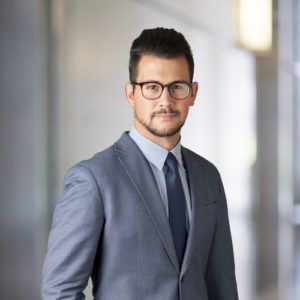 Name
Brent Castro, Associate AIA
Organization
EYP /
Title
Architectural Designer
Connect
Twitter | Instagram | LinkedIn | Website
Bio
the basics
name: Brent Castro
title: designer, son, brother, & friend
hometown: Nashville
favorite color: colorblind
dream: an architectural enthusiast who is determined to become a great architect
inspired by: his mother
worried about: the architectural profession & it's inability to tell it's inspiring & worthy tale
favorite story: Lewis Carroll's Alice's Adventures in Wonderland
current design project: Virginia Commonwealth's School of Allied Health Professions: pictured above.
Born in the vast and diverse state of Texas, Brent considers himself to be full blooded southern having also lived in North Carolina, Kentucky, Tennessee and now the nation's capital of Washington DC. After journeying all over the south, he thinks of Nashville as home. After graduating from the University of Tennessee's School of Architecture, moving to Washington D.C. and serving his tenure as the National Vice President of the American Institute of Architecture Students, Brent took on employment at EYP as a Junior Designer in the Washington, DC studio. He has spent the past five years cultivating a passion for higher education and healthcare related design, including projects such as the Fulton State Mental Hospital, Trinity Washington University Payden Academic Center, and the Virginia Commonwealth's School of Allied Health Professions. EYP presented Brent with their greatest honor, the 2014 EYP Young Designer Award which acknowledges, celebrates and honors a young design professional for excellence in design.
He believes that one must stay active with his community and continues to serve the profession on various committees and councils. His most worthwhile appointment was serving on the AIA's National Diversity Council in 2013-2016. This council had important agendas geared to help engender empathetic views towards cultural and social competency throughout the profession and the communities architects affect.
Every day Brent continues to push the limits of what it means to be a forever student and passionate leader of this profession in hopes that even if his actions only impact one life positively through architecture, that will be all that matters.
ARE Prep Tip: What is one piece of advice that you would give to those starting to test?

The ARE test are never going to be convenient. You're always going to find brilliant excuses of why you can't take the leap. I would suggest sitting down one night with a glass of wine (if you're of age) or some hot tea (if you're a prodigy who has graduated from architecture school before the age of 21) and schedule the examination. It may seem like a heavy financial burden, but believe me, on the grand timeline that is your life, it is more important to get them done. I myself have two more.
How did your experience with AIAS help you to achieve your goals?
My spirit of servitude led to my decision during school to run against 7 other passionate students from throughout the country on the main stage of American Institute of Architecture Students FORUM for the National Vice President position. It was important to me to continue a legacy of admirable leadership that would foster the organization as well as its member's growth. For me, the AIAS was not just a resume filler, but instead I used it as a catalyst for growth as I became a designer and steward of the built environment. By learning to be strong leaders, we can communicate a vision of diligent service to causes outside ourselves. Such leadership, if practiced correctly will positively affect our culture and the communities that we will live and work within. The AIAS helped to teach me this.
What and/or who shaped you into who you are and what you do today?
Deeply rooted within the fabric of the Tennessee capital Nashville exists a city defined by music that continues to influence many aspects of my life. On one of my many adventures to Texas as a youth, I was walking with my grandmother through Louis Kahn's Kimbell art gallery after intensely singing to the Beach Boys on the car ride over. Inside I listened to the echo of sounds vibrating and saw the delicate glow of the lights throughout the galleries. I noticed that there was unique mixture of things I loved all in one place. This is where I discovered that, like my love of music, architecture had a way of speaking to our hearts without asking for permission. Thus, an innocent and sometimes obsessive admiration formed about the built environment surrounding me that has carried throughout my career.
Learning from a quite diverse background of cities, people and places led to my deep desire to study at the architectural academy with my heart set on one day practicing the art of architecture. It was a determined spirit that led me to the 1980's brutalist, concrete halls of the University of Tennessee's Architecture school. Over these informative years, my love for architecture continued to blossom. My professors, the administration and the studio culture at UT taught me to see the world differently. This was essential to my development as a designer and as an individual. What I had not intended to learn was the power of leadership through service back to one's school, peers and community. Architectural leadership, for me, was the helping hand the world needed and it had immense potential to foster positive change and growth. During my time at the university, the vision for my future began to lead me on a path of giving my whole heart to helping others. This was deeply influence by the following quote referenced by a mentor and it resonated deep within me:
"Not everybody can be famous. But everybody can be great because greatness is determined by service." – Dr. Martin Luther King Jr.
This imperative act of service is why the architectural profession has stood the test of time. That the joy of it all comes from the giving side of life. Since the moment I heard this, my life's goal has been to serve the unique populations of the communities I live in by acting as a strong voice while speaking out and putting my pen to paper on behalf of those who need it the most.
How can someone best change the world?
By trying to not to. It is unrealistic to think that the people who changed the world did it on their own. We need to change this mindset. Every great story that is read about brilliant change starts with humble beginnings. The hero always has someone or something guiding them. As we have heard, it takes a village. But remember, first things first bring about success. If you have a cause and a passion, start in your own community. Raise your hand. Raise your voice. Bring someone else along for the ride. Change will most certainly radiate out from there.
How can someone be a better designer?
We must learn that when we design, it is not for ourselves. We must continue to humbly give our hearts, time and actions positively to the built environment and our communities. Together we can continue a legacy of admirable leadership that will foster positive growth for the people inhabiting architecturally designed space.
I find that even if my design actions only help one person over a lifetime, the effort would have been worth it.
How do you define work-life balance and how is it achievable?
I define it as an unreachable goal that dictates that we must have it all figured out, when in fact, no one does. Instead of focusing on that perfect Instagrammable moment, focus on being healthy in mind and spirit knowing that you won't always hit the mark. I believe that a successful life is rooted in good habits that can and should be easily broken in moments that are worth it. Don't always work late, but remember that what we do as designers is intrinsically tough and rooted in great significance. Sometimes your heart will desire to put in the extra hours. Sometimes you won't have a choice. Just always be proud of yourself and do your best.
If you, or another AIAS alumni you know, deserves recognition for their contribution to the profession and society at large, please use the link below to nominate them for this honor.