The American Institute of Architecture Students (AIAS) is celebrating the 60th anniversary of student excellence in leadership, service, and design. In honor of our 60th year, the AIAS is excited to share 60th: Legacy, an ongoing weekly celebration of and thanks to our alumni sponsored by Professional Publications, Inc (PPI). PPI is a publisher of professional licensing exam materials since 1975 and wants to recognize those who have helped the AIAS achieve 60 years of success.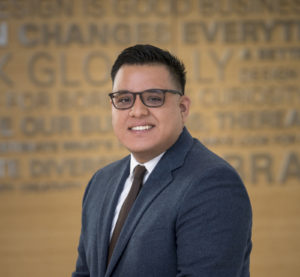 Name
Eduardo Castañeda, Assoc. AIA, LEED Green Assoc.
Organization
CallisonRTKL
Title
Designer
Connect
Twitter | Instagram | LinkedIn | Website
Bio
Eduardo, born in Dallas, Texas, received his Bachelors of Science in Architecture in 2012 and his Masters in Architecture in 2014 at The University of Texas at Arlington. During this time, he studied abroad in Austria at the University of Innsbruck and traveled extensively in Europe. His interest in the influence of historic and contemporary architecture has led him on numerous architectural expeditions throughout Europe, Asia, Central America, and the North America. As AIAS Chapter President at The University of Texas at Arlington from 2012 to 2014, Eduardo energized the chapter and worked diligently to forge productive relationships with the local AIA chapters, both Dallas and Fort Worth, and the design profession in general. Eduardo has garnered national and international attention for both his leadership and design achievements such as: 2016 Texas Society of Architects Honor Awards – Mentorship Award, 2015 National AIAS Emerging Professional Honor Award, 2016 and 2015 AIA Annual Emerging Professionals Exhibition, 2015 AIA Annual Emerging Professionals Exhibition, 2014 Kolb-Berglund Traveling Fellowship, KROB 2013 – Best in Category Student Digital/Mixed, and SuckerPunch Online Publication. Eduardo currently Chairs the Latinos in Architecture committee with AIA Dallas, and has been an active and passionate member in the organization, including serving on the AIA Dallas – Board of Directors for two consecutive terms (2013 and 2014) as the AIAS Liaison, Chairing the 2015 Ken Roberts Memorial Delineation Competition, and member of the Young Professionals Committee.
What and/or who shaped you into who you are and what you do today?
Studying abroad is almost a necessity as an architecture student. Going abroad and studying has enabled me to expand my knowledge and skills in the world of architecture incorporating other styles and ideas. Studying abroad has allowed me to open my mind to new ways of learning and understanding my true passion in life: ARCHITECTURE. As an architecture student abroad, I was able to learn about a new culture and get to know the culture on a personal level–an essential experience in the field of architecture. By taking advantage of the formal and informal learning opportunities that studying abroad provides, I was able to expand my mind and skill-set in new ways and refer back to what I have learned and apply it to my profession.
How can someone best change the world?
By nurturing and inspiring those around you, leaving them to continue and pass that passion forward.
How can someone be a better designer?
In today's world one has to be creative, innovative, and work with all the common problems to break the mold of traditional things that don't function in today's society. For me it is crucial to absorb cultures, gain a sense of how life unfolds, how people's psychology functions, how emotions run. You take all that in and consider how society could express itself as a response to these perceptions that are beyond the technical or purely conceptual.
What is one tip you would give yourself in your 20s?
Actions speak loudly. The things you do in life will make a difference in how people understand who you are.
What is a decision or action you made in school that influenced your trajectory?
Being an active leader of the AIAS has, by far, given me many more opportunities in 2 years than the previous 6 years of my studies. AIAS served as a powerful tool to help me refine my talents and abilities to lead. It allowed me to connect with peers and professionals all over the nation and world, and empowered me to collaborate together to create and make a difference. So I encourage you as a young leader to keep yourself engaged, continuously learn from one another, and create opportunities for educational, social and architectural ideas to activate your workplaces and communities.
If you, or another AIAS alumni you know, deserves recognition for their contribution to the profession and society at large, please use the link below to nominate them for this honor.