The American Institute of Architecture Students (AIAS) is celebrating the 60th anniversary of student excellence in leadership, service, and design. In honor of our 60th year, the AIAS is excited to share 60th: Legacy, an ongoing weekly celebration of and thanks to our alumni sponsored by Professional Publications, Inc (PPI). PPI is a publisher of professional licensing exam materials since 1975 and wants to recognize those who have helped the AIAS achieve 60 years of success.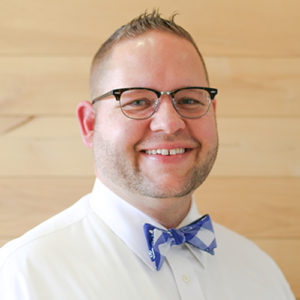 Name
Eric Roberts, AIA, NCARB, LEED AP
Organization
SH Architecture
Title
Principal
Connect
Twitter | Instagram | LinkedIn | Website
Bio
Eric M Roberts, AIA is a passionate advocate for architects and the practice of architecture throughout the State of Nevada and the West. He is an inspirational leader and an agent for positive change in the profession. Prior to his professional career commencing in Las Vegas Eric was recognized with the Alpha Rho Chi Medal at the University of Idaho in recognition of the Highest levels of architectural achievement and leadership.
Developing leadership traits and habits can be difficult for young architects as they try to balance licensure, advancement in a firm and volunteerism with the AIA and other organizations in the community. Couple these efforts with the demands of family, church and social life and the task can become overwhelming for young design professionals. Eric has navigated these waters deftly and with aplomb. He advanced the role of Vice President and Studio Director at SH Architecture, a 48-person firm with projects around the country, in 2007 and lead the firm's rebranding and digital marketing efforts. Eric's major focus with the AIA has been on establishing a political voice for architects in the State of Nevada. In the brief time that Eric has been working toward furthering the influence of architects on the state of Nevada's political landscape; architects have been asked to serve on Harry Reid's Blue Ribbon sustainability committee, the Governor's special budget committee and to testify on the floor of the state legislature in support of bills affecting architecture. Eric was also able to get the AIA Nevada PAC started and began fundraising for political purposes.
Eric has also made a commitment and solid investment in the future of the profession through his outreach efforts to youth education programs with the City of Las Vegas that teach design and construction principles at a young age. He has also been an annual mentor for the AIA High School Design Awards program for over 8 years. Through his efforts with the High School students he has been able to work with over 1,000 students in the last 8 years an introduce them to basic design concepts and principles.
In the spring of 2013, Eric collaborated with a group of architects from AIA Las Vegas and started the Las Vegas Urban Sketchers Chapter. This group gets together at various locations around the community on a monthly basis and sketches the environment. Las Vegas Urban Sketchers have had displays at local restaurants and at AIA events and continue to draw individuals from a diverse cross-section of the community to the monthly sketch events. Through this outreach effort, Eric has been able to further the outreach of the AIA and increase the visibility of the power of the built environment around us by sketching how we see it, month by month. Eric is also recognized as an articulate speaker and a dynamic architect. He was appointed to the Las Vegas Board of appeals and is recognized for his level-headed approach and analytical approach to complex code-based issues and concerns. Eric was also chosen to be part of the remodel of the Scott Brothers property and the 4-part television special called "Property Brothers at Home" which continues to air nationally on HGTV. Eric is proud to be a Nevadan and honored to be part of the great family that is the AIA.
Eric is proud to be a Nevadan and honored to be part of the great family that is the AIA.
ARE Prep Tip: What is one piece of advice that you would give to those starting to test?

The most important advice I can offer in regards to the ARE is simply this: START! Too many professionals put testing off for a "better time" when things will be "calmer" and that time never comes. Just start.
How did your experience with AIAS help you to achieve your goals?
While I was President of the AIAS at the University of Idaho I learned the importance of communication with various stakeholders. My time at Idaho allowed me to develop as a leader and the AIAS provided a powerful outlet to influence positive change in the world around me.
What and/or who shaped you into who you are and what you do today?
The University of Idaho and the AIAS was formative in my development as a leader. My family and faith has shaped my social consciousness and helped direct my leadership to community-based initiatives.
How can someone best change the world?
Changing the world begins with changing ourselves. Once we have become an exemplar of the change we seek in the world, we can-through compassion and hard work-begin to influence the same change in others. We cannot push others to change. They must be drawn to change.
How can someone be a better designer?
Exploration. Exploration. Exploration. Nothing in design is new or actually created. We discover design through exploration and experience. I still believe that drawing and sketching is a fundamental part of that discovery.
What is one tip you would give yourself in your 20s?
If I could speak to the 20-something Eric, I would say "Draw more!" I would also encourage myself to not try to become everything I wanted to become in a day. I would encourage patience and enjoying the process.
How have you overcome unforeseen challenges through your career?
I have overcome many unforeseen challenges in my career. I was denied the first time I applied for architecture school. Didn't stop me from trying again. I lost my first election for a position on the AIAS board. Didn't stop me from trying again. I became a leader at my firm right before the recession. We were all knocked down, but we retooled and re-strategized to emerge stronger.
How do you define work-life balance and how is it achievable?
Work-life balance doesn't exist. The idea is chimerical. As architects we are professionals-this isn't a job it's a career. I usually only hear complaints about work-life balance from people who don't feel they have autonomy or upward mobility in their current position. I believe in time away from work with family and friends. I just don't think there is any such thing as "balance."
What is a decision or action you made in school that influenced your trajectory?
At the beginning of my first semester of 3rd year studio my toddler accidentally spilled a glass of milk on my laptop. I wasn't able to get the laptop warranty to replace it for almost two months! However, the time I spent without a laptop allowed me to learn and implement critical hand drawing skills and techniques for project development. That semester influenced the rest of my college experience and has stayed with me as a professional.
If you, or another AIAS alumni you know, deserves recognition for their contribution to the profession and society at large, please use the link below to nominate them for this honor.