The American Institute of Architecture Students (AIAS) is celebrating the 60th anniversary of student excellence in leadership, service, and design. In honor of our 60th year, the AIAS is excited to share 60th: Legacy, an ongoing weekly celebration of and thanks to our alumni sponsored by Professional Publications, Inc (PPI). PPI is a publisher of professional licensing exam materials since 1975 and wants to recognize those who have helped the AIAS achieve 60 years of success.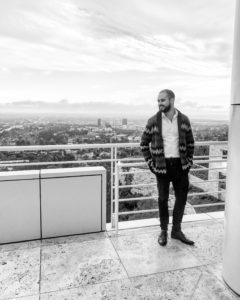 Name
Hector Puga, Assoc. AIA
Organization
Marmol Radziner | AIA California Council
Title
Assistant Construction Project Manager | AIACC Associate Director, South
Connect
Bio
Hector Puga graduated from California State Polytechnic State University, Pomona in 2013 with a Bachelor of Architecture. During his academic career at Cal Poly Pomona, he was President of his local AIAS chapter, the largest in the nation. After graduation Hector continued to be involved with the AIA as an Associate AIA member, where he was part of different committees. He became part of the steering committee for the former Architecture for Humanity, Los Angeles Chapter where he worked with leaders around the world to launch a new organization. In 2015 they launch Open Architecture Collaborative to bring advocacy, education, and empowerment to local communities through design.
For the last 4 years, he worked as Senior Project Coordinator at the J Paul Getty Trust, Getty Center in Los Angeles in the Department of Capital Projects within Facilities. There he helped manage design and light construction projects that kept with the design of Richard Meier. Since then, Hector has joined West LA based firm Marmol Radziner as Assistant Project Manager in their Construction division. Currently he is working on his MBA in Organizational Leadership at Mount Saint Mary's University, Los Angeles. He plans to combine his both backgrounds to help the local Latino community and strive for diversity, equity and inclusion in architecture.
ARE Prep Tip: What is one piece of advice that you would give to those starting to test?

For those taking the ARE, I would highly suggest forming an action plan to tackle them quickly. It gets harder as you prolong the process, especially as life happens. I am currently still taking them now and wish I had focused on completing them before going back to school for my MBA. The main idea is to develop a plan and schedule, and stick to you.
How did your experience with AIAS help you to achieve your goals?
AIAS taught me the foundations to be a leader in the profession of architecture. I was able to travel the country and meet people of different backgrounds and stages in their life, but who had the same goal of becoming an architect and a leader. It was empowering and inspirational to see how many young leaders were being formed and what the future will be like with us as leaders of architecture.
What and/or who shaped you into who you are and what you do today?
The struggles and achievements my parents have undergone has been my greatest inspiration and shaped who I am today. Being an immigrant and with immigrant parents, I saw how difficult it was for them trying to succeed in a foreign country. They gave up their professions and careers in Mexico for a better life in the US. For that reason, I am the hard working individual and leader I am today. I do everything in my career to make them proud since they were unable to exercise their professions in the US.
How can someone be a better designer?
Designers are always so focused on what is in front of them that they sometimes forget the external environment. It is easy to get lost in a beautiful design without always taking into account how it can affect others. It is important to always be aware of who the design is for and how it will affect their lives and the community as a whole. Design for others, not for yourself.
How have you overcome unforeseen challenges through your career?
In the short career I have lived so far, the greatest challenge was not going into traditional architecture. Instead of going into a traditional architecture firm, I went into facilities management and learned that you also need architects in that sector. It helped me guide my path into facilities management and construction, instead of as a designer. It opened my eyes to a different perspective of architecture.
What is a decision or action you made in school that influenced your trajectory?
Deciding to take an internship at the Getty Center right after graduation steered my career path in a different direction. It lead me to learn about a different sector of architecture and helped me get involved with the AIA California Council. I was able to be exposed to a totally different world of architecture in terms of facilities management. The best part was that I was able to work at one of Richard Meier's most famous works in Los Angeles. Being at the Getty Center everyday was definitely a perk.
If you, or another AIAS alumni you know, deserves recognition for their contribution to the profession and society at large, please use the link below to nominate them for this honor.