The American Institute of Architecture Students (AIAS) is celebrating the 60th anniversary of student excellence in leadership, service, and design. In honor of our 60th year, the AIAS is excited to share 60th: Legacy, an ongoing weekly celebration of and thanks to our alumni sponsored by Professional Publications, Inc (PPI). PPI is a publisher of professional licensing exam materials since 1975 and wants to recognize those who have helped the AIAS achieve 60 years of success.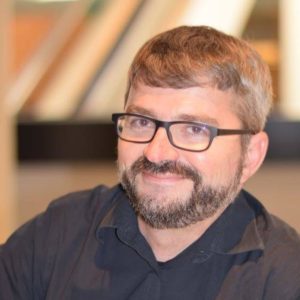 Name
Jamie Crawley, AIA, LEED AP BD+C, NCARB
Organization
HA Architecture
Title
Studio Director
Connect
Twitter | Instagram | LinkedIn | Website
Bio
As a Young Architect and naturalized Texan originally from Montreal, Quebec, Jamie leads HA Architecture, a small emerging studio in East Austin. His #coffeesketch(s) are often featured on Architizer and the studio's work has both been published and awarded regionally. Recognized as a finalist in two Juried Design Competitions (2015 and 2017) the most recent will be a temporary Architecture Folie and light installation in November for Austin's Waller Creek Conservancy's Creek Show. Built on the experience of service, teaching, and strong design practices, Jamie shares his passion for Architecture by lecturing at conferences on sustainable design, architecture, advocacy, social media and education.
Jamie is a graduate of Texas A&M University where he served as AIAS Chapter President after serving as AIAS Regional Coordinator for Texas and Oklahoma. He is a LEED Accredited Professional who maintains his credential in Building and Construction (BD+C), has been a contributing author to the Young Architects Forum Magazine COLUMNS and has taught at Texas A&M University, Prairie View A&M University and will be joining the Faculty of the University of Texas at Arlington in the fall of 2017 advising their design-build program. In 2007 he launched and founded the Gus Garcia Park Ideas Competition that was later recognized by the City of Austin with a Mayoral Proclamation for Service to the Community and he continues to contribute to multiple pro bono, volunteer and advocacy efforts. In recognition of the continuity of citizen architect contributions, he was awarded young architect of the year from AIA Austin in 2015, Associate AIA of the Year from the Texas Society of Architects in 2007 and Associate AIA of the Year from AIA Dallas in both 2000 and 2001 then serving as the first Associate Director on their Chapter Executive Committee. In 2014-15 he represented Texas to the AIA National Young Architects Forum and subsequently was a member of AIA National's Intern Titling Task Force and as 2016 Co-Chair of AIA National's Leadership Institute, a program of the Center for Civic Leadership. Currently he serves the Texas Society of Architects as a member of the Equity Diversity and Inclusion Task Force as well as a Board Member of the Austin Soccer Foundation that aids under represented youth through the beautiful game.
ARE Prep Tip: What is one piece of advice that you would give to those starting to test?

Everyone is unique and our paths to becoming an Architect are equally unique. The ARE is a step in that process we all share yet there is no need to compare your own process, timeline or preparation with someone else. Find what works for you and be confident.
How did your experience with AIAS help you to achieve your goals?
I was fortunate to attend FORUM in Washington DC with a PRE-FORUM in New York City. I had never been to New York and Manhattan certainly reminded me a little bit of Montreal, only a lot bigger and clearly "the center of the known universe." Aside from visiting some amazing buildings, firm tours and a lecture by Lebbeus Woods, the volunteer leaders–my peers who organized all of it–truly inspired me and a student I was with to be bold and fight for an idea we had been kicking around for a little while. Though Texas A&M was one of the largest Architecture programs in the country at the time, we were one of the smallest Departments at our own University and the idea for an Architecture Career Fair was not viewed as viable by the administration though the Construction Science Department had been supporting one for their students successfully for several years. With the support of our faculty advisor, we were able to create a two-day Career Fair event for our fellow students that is now in its 20th consecutive year. Notably, neither of us as organizers were ready to graduate nor did we interview with any of the 30 firms from across Texas in attendance that first event. Rather, we saw the inspiration of others, the need for our program and the opportunity to make a difference even if not everyone was initially supportive. And that unlocked a passion for service to the profession that only AIAS afforded me.
What and/or who shaped you into who you are and what you do today?
The values instilled and experience afforded me by my parents immigrating to the United States chasing a dream but never forgetting where you come from was certainly the greatest gift and influence until the birth of my daughter Emily. Being a father and in-turn sharing my values, experiences and passion for Architecture and service with her continues to shape me. Professionally, I have been fortunate to have many mentors each with their own influence but I would be remiss not to acknowledge two Professors. Rodney Hill, FAIA embodies creativity and his generosity, guidance and unwavering support of young people finding their way in this Architecture pursuit is unparalleled. Rodney convinced me to change my major to Architecture from Poly Sci/Pre-Law; was my first design studio professor; served as my AIAS faculty advisor and has remained a dear friend, mentor and inspiration. He is actually the longest serving active AIAS Faculty Advisor in the organization's history and I hope the AIAS National sees fit to honor him with his tireless service, advocacy and influence. Then there was Sir Malcolm Quantrill, FAIA, RIBA who like Rodney shared an irreverence for some institutions but in his sphere was tenacious in his talent, quick wit and passion for both the theoretical and historical underpinning of Architecture. Malcolm wrote definitive works on Aalto, Foster among others and generously introduced me to Phillip Johnson and Brian Mackay Lyons but his patience and belief in me to mature as a designer, a historian and eventually as a teacher was an immeasurable gift and lasting influence.
How can someone best change the world?
Consider being the person who brings action to the world and our profession the way a verb brings action to a sentence. Architecture is certainly a career, but it is more importantly an open-ended passionate pursuit. Efforts need not be grandiose to have a lasting impact. Rather, genuinely engaging your local community allows for the public to truly meet an Architect (often for the first time) and witness the unique problem solving point of view we were all afforded by our education. Being present, listening to our neighbors and acting as 'verbs' in service to those communities (like Bucky Fuller suggested with his text "I seem to be a VERB") — your life and career will be richer for it. Helping the next generation has always been my guiding principle for the service choices I have made and leaving things better than you found them remains the litmus test and goal for those efforts.
How can someone be a better designer?
I have always drawn every day for as long as I can remember. In architecture school, I fell in love with the sketches of architects we studied, as if it was a glimpse into their process. Every day with a morning cup of coffee, I use a simple Pentel extra fine pen in a small Moleskine sketchbook. I have maintained this ritual with my studio, HA Architecture for a few years now and post these musings as #coffeesketch via Instagram. It helps me think and in practice serves as a dialogue starter. The added benefit of our shared society is how this resonates and has afforded me the privilege of meeting many new people. Sometimes people remark that drawing in Architecture is a dying art or ask literally, 'Pen, Pencil or Computer?' In our studio, we move quickly to computer models as a parallel process. However, pen sketches continue to be made throughout the design as part of the client/architect dialogue and an iterative design process. The concept of practice and remaining curious truly drives my approach in teaching as well as the collaborative sprit in our studio.
How do you define work-life balance and how is it achievable?
Yes work-life balance is achievable, but sometimes you personally have to take a step back to move forward and the only comfort in that activity is realizing Architecture is truly a long game. When I was young every summer was spent in Montreal, which instilled in me an appreciation for a multilingual culture, curiosity of place, and studying history, and a penchant for travel that I feel fortunate to share now with my daughter, Emily, on our own adventures. Knowing this is who I am and what I value keeps me principled in my decisions and afforded me the strength to both literally and figuratively negotiate my work-life balance. My studio values family, values service and this allows for the growth of the individual as well as HA Architecture itself as a business. Defining work-life balance as an integration and evolution of the whole person as well as the growth of the studio allows this in our case to be achievable.
If you, or another AIAS alumni you know, deserves recognition for their contribution to the profession and society at large, please use the link below to nominate them for this honor.