The American Institute of Architecture Students (AIAS) is celebrating the 60th anniversary of student excellence in leadership, service, and design. In honor of our 60th year, the AIAS is excited to share 60th: Legacy, an ongoing weekly celebration of and thanks to our alumni sponsored by Professional Publications, Inc (PPI). PPI is a publisher of professional licensing exam materials since 1975 and wants to recognize those who have helped the AIAS achieve 60 years of success.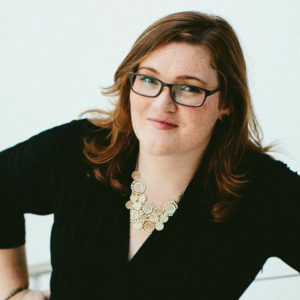 Name
Je'Nen Chastain, Assoc. AIA, LEED GA
Organization
Heller Manus Architects
Title
Designer
Connect
Twitter | Instagram | LinkedIn | Website
Bio
An alumna of UNC Charlotte, Je'Nen initially launched her career into architecture after being elected into concurrent leadership positions with the AIAS: South Quad Director in 2008, and National President in 2009. She was one of only three women to hold the position of President within a 15-year span of the organization's history between 1999-2015 and was responsible for leading the search and hire of a new Executive Director in 2010. Currently, Je'Nen is a designer with Heller Manus Architects in San Francisco, and a part-time student at the Mills College, Graduate School of Business and Public Policy in Oakland. She will graduate in spring 2017 with her MBA, with a concentration in social entrepreneurship, following four research intensive years focused on the business of architecture. Parallel to her studies, she also played a major role in helping re-launch the national leadership program of the AIA through her work with the AIA Center for Civic Leadership. Je'Nen received a Presidential Citation from AIA California Council in 2016, is a Richard Upjohn Fellow of the AIA, and has also been honored for her graduate studies as a Forté Fellow and a Career Grantee of the AAUW.
ARE Prep Tip: What is one piece of advice that you would give to those starting to test?

Finding a community of individuals who are also trying to achieve the same goals you are is key. Do not feel that you need to do this alone. AIA San Francisco offers the ARE Pact, which allows those testing to commit to take all exams within one year, backed by a $1,000 deposit. Pending completion of all exams (pass or fail accepted), you get your money back. The collaboration that happens in an effort for study teams to self-organize and keep each other motivated is paramount. While most groups do not meet the entire year, the idea that you're "in it together", and have someone you can reach out to helps to keep everyone focused. The additional pressure of having money in the game encourages follow through.
How did your experience with AIAS help you to achieve your goals?
As a student, I was eager to see how my career was going to unfold and where it was going to take me. I did a lot of day dreaming in studio with big aspirations on what the future might hold, but wasn't clear on how I was going to accomplish it. The most valuable part of the AIAS is the community, which helped me navigate my unforeseen future in two ways:
The AIAS unlocked the limitless opportunities that the industry had to offer me. Exposure to a talented network of industry leaders gave me insight on the broad range of careers options within the field, and helped me better assess what options I actually wanted to explore / pursue.
These valuable peers and mentors helped me develop the skills I needed to go forward with courage into my career journey. They inspired me to find my passion, my voice, and most importantly… be courageous.
How can someone best change the world?
The most important step of creating change in the world is first recognizing a problem exists, and then establishing/maintaining an unyielding drive to want to fix the problem. As designers, we are trained to imagine a better world, and yet the hardest part of pursuing change is the actual follow through required to see an idea from concept to reality. It requires tremendous energy, focus, and dedication to the cause. As an example, just to launch the initial year of the AIA Leadership Institute in 2015, our team spent five years researching, planning, and building consensus behind the scenes of what it could/would/should become. Once the program launched, we still had to keep pushing the idea up the proverbial mountain, as it required follow through in ways we had not anticipated. Now, two years later, we have convened two successful programs with nearly 1,000 participants digitally connected across the United States, and we will continue to be champions for the program's growth. Those who seek to change the world should bring an entrepreneurial spirit, and practice transforming ideas into action at various scales. Freedom by Design is such an exceptional outlet for exploring transformation, as it results in real, tangible social impact. Start small with your change interventions, and then scale up. Each time you succeed and move an idea to the next level of implementation, you will gain new lessons learned that will help you get to the next success. Seek out the change you want to see in the world, and be the spark of energy that pushes it forward within your community.
How can someone be a better designer?
Design is about seeing what others cannot see, and telling that story. It is also about listening to and observing in order to solve complex challenges. I see great design as having evolved to respond more specifically on people engagement, and the ability of the architect or design team to connect design to and for the community. Fostering collaboration through active listening to create ideas that celebrate the human spirit and bring us together is key. The lone ego is no longer the winner on design thinking. Listening and collaborating have become the new formula for success!
How have you overcome unforeseen challenges through your career?
After participating in Equity by Design, I learned that modern careers are no longer a straight forward climb, but have become much more like a jungle gym. That idea has really resonated with me, as contrary to what I thought would happen post-graduation… I have not been on a single path. When I finished my term as AIAS National President in 2009, I was met with the devastating challenges caused by the Great Recession. I watched as all of my friends tried to launch their careers and struggled, big time. Firm owners I had met in the AIA were worried about closing their doors. There were no jobs stimulating the economy. It was a very traumatic and emotional time to be a recent graduate from architecture school seeking to start a career. Every job board I looked at was empty, and regardless of how many job applications I sent out, there were few returned responses. Many days were uncomfortable and caused a lot of doubt. It took me a while to move past this; but recently I've come to peace knowing that all of that uncertainty lead me to unexpectedly move to California, try out a lot of different jobs, and enroll in graduate school. As uncomfortable as the unknown factor of those three years were, and the emotional stressed they cause even years after… I learned a lot about myself. We all face adversity in our careers, but it is the ability for us to dig deep within ourselves and rise out of the confusion and keep moving forward that separates the pack. Challenges make us stronger people, so long as we are open to learning from those experiences.
What is a decision or action you made in school that influenced your trajectory?
Deciding to get involved with AIAS changed my life. Initially I was looking to feel connected in my school, so I ran for Secretary of my chapter. After saying yes to go to the Grassroots Leadership Conference in DC, I realized there was a much larger network of AIAS members out there, so I sought to get connected regionally. This resulted in me organizing a South Quad Conference in Charlotte in 2007. After that I wanted to get connected nationally, so I decided to run for a position on the national board of directors. From there I was on a journey that would shape my entire career. Participating in AIAS taught me many important lessons early on in my career. I honestly could not have imagined the path I find myself on today, which has been rewarding, challenging, and meaningful. It has far exceeded my imagination of where I thought I would be at this point in my career. I would not be the person I am today had I not been so deeply connected to AIAS during my undergraduate years, as it helped to shape many of my core beliefs about work ethic, community, social responsibility, and leadership.
If you, or another AIAS alumni you know, deserves recognition for their contribution to the profession and society at large, please use the link below to nominate them for this honor.