The American Institute of Architecture Students (AIAS) is celebrating the 60th anniversary of student excellence in leadership, service, and design. In honor of our 60th year, the AIAS is excited to share 60th: Legacy, an ongoing weekly celebration of and thanks to our alumni sponsored by Professional Publications, Inc (PPI). PPI is a publisher of professional licensing exam materials since 1975 and wants to recognize those who have helped the AIAS achieve 60 years of success.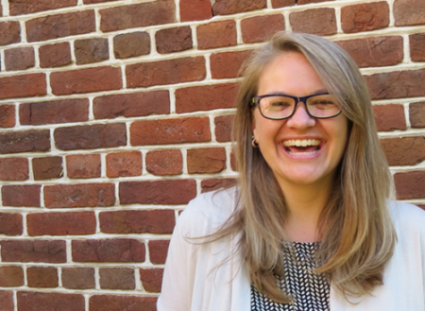 Name
Kimberly Tuttle, AIA, NCARB
Organization
American Institute of Architecture Students (AIAS)
Title
Director, Leadership & Career Services
Connect
Twitter | Instagram | LinkedIn
Bio
Kimberly joined the AIAS in 2015 after spending 18 months on the road as NCARB's Outreach Manager, talking to students and aspiring architects on the path to licensure. Throughout her time at NCARB, she realized that her main passion lies with helping others achieve the goals they set for themselves. Whatever their goal in life is – her main objective is to help AIAS members get to where they want to be when they graduate.
Kimberly became a licensed architect in 2013, having spent a decade working on the coast of Maine on light commercial and residential projects, including the complete design and grand opening of a restaurant in Southport, Maine, leading the design for one of HGTV's Blog Cabins, and working on several high-end (and high-profile!) residences. During her time in Maine, she served as the Associate Director for AIA Maine as well as the IDP State Coordinator (Architect Licensing Advisor). After moving to a small practice in 2012, she became active in firm outreach and community involvement and became the youngest member of the Town of Camden Planning Board. Upon her move to Washington, DC in 2014 to work for the National Council of Architectural Registration Boards (NCARB), she became involved with AIA|DC's Emerging Architects Committee as the Chair of the Mentoring Workshops and was shortly thereafter selected as a 2015 scholar of the Christopher Kelley Leadership Development Program (CKLDP). After graduating from the program, she returned to serve on the CKLDP Advisory Committee as the Communications Advisor.
Kimberly is an avid traveler and has spent much of the last decade traveling solo and seeing as much of the world as she possibly can. As a remote employee at the AIAS, she also spends several months in the cities of upcoming AIAS FORUMs in order to work with local architects to bring to you the best the city can offer. She recently spent three months in Austin, Texas and is looking forward to exploring Seattle in the next year.
ARE Prep Tip: What is one piece of advice that you would give to those starting to test?

Make a plan and stick to it. And don't be afraid to tell people to help hold you accountable. I took two exams in 2011, and then mosied about for 2 years saying I would study and never really getting to it. Finally, enough people had asked me, "So, are you licensed yet?" that I made a plan to take the remaining five exams in 4 months. I buckled down and studied. Once I made the plan, I was licensed within that year. Also – don't be afraid to fail. It happens to (almost) everyone. What matters is that you don't let a failed exam knock you down, and that you re-adjust your plan and keep moving. I promise you it's worth it – just don't give up.
What and/or who shaped you into who you are and what you do today?
I have been so fortunate to have been surrounded throughout my career with amazing mentors who inspire and encourage me to go out and do my best. I have an amazing college professor that I still ask for his advice to this day, and there are two architects in Maine who are my pseudo big brothers (little sister teasing included!). I wouldn't make a change in my career without asking them their thoughts first. They have been with me since I started my first internship, and they were extremely warm and welcoming to that daunted intern on her first day. They took me under their wings, trained me, encouraged me, and I owe my whole architectural career to them. Mentorship isn't something that you can go looking for – but I have found that those coworkers that you just really get along with and want to help you grow in your career are the ones that you should hold on to and keep in touch with, even if you have moved on. And then, of course, there's Nick. I've followed him from Maine to NCARB to the AIAS. But that's a story for another day.
How can someone best change the world?
Focus on the small things. I find that in a room full of people, in a membership full of students, if I can help one person – just one – then I have made a difference in someone's life. And maybe that person will make a difference in someone else's life. It's the ripple effect – and I find that immediate effect is much more powerful and encourages to me to keep going.
How can someone be a better designer?
Find someone who's work that you admire and study it. Why do they make the decisions they do? Also – learn to be a good listener. You can't help your client if you aren't truly listening to them.
What is one tip you would give yourself in your 20s?
Travel more. Take more chances. Don't take life so seriously and enjoy it! Your 20s are for experimenting and figuring out who you want to be, and it finally all comes together in your 30s. Your 30s are awesome because it's like everything you've worked for has finally come together and life is really good.
How have you overcome unforeseen challenges through your career?
I actually felt stuck during my first internship. I had been there for over three years, we had gone through the recession, and I was miserable. I didn't enjoy practice anymore and I was applying for jobs doing anything BUT architecture. It was at this point when I approached one of my mentors and explained my situation. Amazingly enough, there was an opportunity at their new firm, and I jumped at the chance and really grew as a designer over the next few years. It was also during this new position where I became involved in the AIA and was able to finish my exams. Their faith and encouragement in me really brought my passion for architecture back to life. It was then that I learned that it's okay to ask for help and that those mentors can open unexpected doors.
How do you define work-life balance and how is it achievable?
I used to have work-life balance. To be honest, when I was in practice, I couldn't wait until 5pm. That was also when my volunteer time started – whether it was the planning board or the AIA. Since I moved to DC, I have found that work-life balance to be much harder to come by, as the days fly by and there's never enough time to get everything done. I also really love what I do – and it's different every day – so I'm never board and I usually don't mind spending an extra couple hours in the evenings finishing up something. That being said – when I need a break, I turn off all notifications on my phone. I don't check email, and I stay off of Slack. I also try to make this a habit on the weekends. It allows me to make sure I'm fresh for the work week and am able to focus on what needs to happen. I also still dabble in practice, so when I have architectural work that needs to get done, it's easy for me to switch off all AIAS stuff and turn to practice. And because I work from home, I also take a break mid-day to get my workout in, which is really helpful in staying motivated for the afternoon!
What is a decision or action you made in school that influenced your trajectory?
I went on a two-week study abroad trip to Italy in my 3rd year, and I caught the travel bug. After that, I traveled as much as I possibly could, but when I had the opportunity to leave practice and work for NCARB where travel was 70% of my job, I jumped at the chance.
If you, or another AIAS alumni you know, deserves recognition for their contribution to the profession and society at large, please use the link below to nominate them for this honor.