The American Institute of Architecture Students (AIAS) is celebrating the 60th anniversary of student excellence in leadership, service, and design. In honor of our 60th year, the AIAS is excited to share 60th: Legacy, an ongoing weekly celebration of and thanks to our alumni sponsored by Professional Publications, Inc (PPI). PPI is a publisher of professional licensing exam materials since 1975 and wants to recognize those who have helped the AIAS achieve 60 years of success.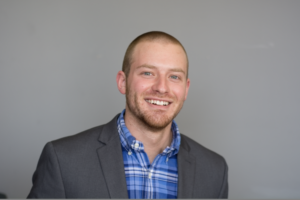 Name
Matt Barnett, AIA, LEED AP BD+C
Organization
Archimania
Title
Designer
Connect
Bio
Matt is a driven, iterative designer with a knack for solving complex problems with highly conceptual yet rigorously researched designs. This talent is conveyed through written and graphic narrative story telling. He blends history, theory, art and sculpture with a background in construction to create compelling spaces. Matt is obsessed with perpetual learning and collaborative atmospheres. He has contributed to built work at many scales, typologies, and programs across the United States. As a licensed architect and LEED AP BD+C accredited professional, Matt has a passion for advancing sustainable design and preserving our environment. He has contributed to multiple projected net zero energy, Living Building and LEED Platinum projects. Over recent years Matt has been a part of 20 major design awards including six national awards. Notable awards such the AIA COTE Top Ten, AIA National, Regional, Local, academic research awards, and a TN ASLA Award of Excellence. Matt has worked for and collaborated with three notable architectures firms, Brooks+Scarpa in Los Angeles, el dorado in Kansas City and Archimania in Memphis. He served as the Director of Freedom by Design, responsible for home renovations and affordable housing in impoverished communities for 3 years and served as the Board Co-Chair of Freedom by Design in Washington DC from 2014-2015. He has lectured on design build work in at-risk communities at national conferences in Nashville, Atlanta, Chicago, and Washington DC.
ARE Prep Tip: What is one piece of advice that you would give to those starting to test?

My biggest advice is to (if possible) schedule all of the tests two weeks apart and just buckle down for a couple months. This provides a rigorous schedule of 7-days a week studying and removes the procrastination.
How can someone best change the world?
Changing the entire world is an unattainable fallacy. However, I believe that a more appropriate goal would be to have the largest positive impact possible whether that is simply making someone smile, or designing an entire city of the future. The butterfly effect is a great example of how to positively change large swaths of society, and to me, the best way to do that is to become infectious, inspire others. The ability to help others believe in themselves, or become effectively engaged in their own beliefs is how wide-spread change takes form.
How can someone be a better designer?
Endless education and exposure. I believe you have to compile an enormous library of mental imagery and constantly fight to avoid knowledge complacency. The ability to be self-critical, and accept constructive criticism from others is invaluable. Always take risks and push the boundaries, do not accept the status quo of anything at face value. Finally, I think you have to study people, their environment, their emotions, how they work, how they live, how different cultures operate, becoming a sort of self-taught psychologist. That will ultimately allow you to make highly informed, compassionate design decisions that connect to people and context.
How have you overcome unforeseen challenges through your career?
By believing beyond any doubt that what I am doing is beneficial to society. Once I accepted that failure and process are the essence of all great forward movements I eliminated all the fears associated with taking risks. It really comes down to believing in the journey as much as the destination.
How do you define work-life balance and how is it achievable?
I think it comes down to balancing your professional goals with your personal goals. The most exciting times are when these are influencing each other or are actually over lapping. It is inevitable that one will dominate the other from time to time, so it takes real dedication to keep them reasonably balanced.
What is a decision or action you made in school that influenced your trajectory?
Having the opportunity to teach freshmen design studios while I was finishing my thesis was a defining moment for me. I learned so much about myself and from my students while teaching, the entire experience was very rewarding. Those experiences pushing forward my interest in the dialogue between academia and the profession. My current interests are defining ways to intertwine the two in mutually beneficial research.
If you, or another AIAS alumni you know, deserves recognition for their contribution to the profession and society at large, please use the link below to nominate them for this honor.