The American Institute of Architecture Students (AIAS) is celebrating the 60th anniversary of student excellence in leadership, service, and design. In honor of our 60th year, the AIAS is excited to share 60th: Legacy, an ongoing weekly celebration of and thanks to our alumni sponsored by Professional Publications, Inc (PPI). PPI is a publisher of professional licensing exam materials since 1975 and wants to recognize those who have helped the AIAS achieve 60 years of success.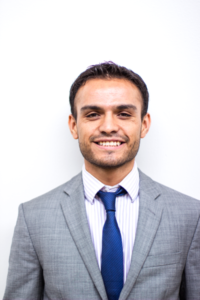 Name
Miguel Mendez, AIAS
Organization
AIAS, AIA Dallas Latinos in Architecture
Title
Graduate Student
Connect
Bio
I was born in Guanajuato, Mexico. My family moved to Austin, Texas in 2003. I am a first-generation college student, the first in my family to complete a four-year degree, and the first to attend a graduate program. I moved to Arlington, TX to attend the University of Texas at Arlington where I received a Bachelor of Science in Architecture and a Bachelor of Arts in Spanish in 2016. I will be graduating from UT Arlington with a Master of Architecture degree in December of 2017. I have worked in the professional offices of Kevin Sloan Studio in Dallas, and Cornerstone Projects Group in Fort Worth.
How did your experience with AIAS help you to achieve your goals?
As the president of the AIAS chapter at UT Arlington, I felt a tremendous responsibility not only to lead the chapter with excellence but to also be a role model and inspire my entire school with my work and my leadership experience. AIAS has also been instrumental in surrounding me with some of the greatest and most talented individuals from my university, this, in turn, pushed me to do more and be a better student and an excellent leader. AIAS has also given me plenty of opportunities to interact and network with professionals from the DFW area where I have the freedom to express my concerns as well as learn about current issues and topics being discussed in my community.
What and/or who shaped you into who you are and what you do today?
Previous AIAS leaders in my chapter have served as great mentors when it comes to leadership and personal development. I have also grown more passionate about architecture from attending conferences and seeing the thriving and sparkling environment created by all the students coming together in one place to discuss and advocate for a better profession, community, and the future of architecture. My professors and peers have also inspired me to push myself and help me to put my best work forward, by seeing their dedication, skills, and talents and by learning from them every day.
How can someone best change the world?
I think leading by example and inspiring with actions and passion is the best way to inspire a better person in others.
How can someone be a better designer?
Turn architecture into your hobby. I find great pleasure in doing watercolors and sketching in every opportunity I have, this, in turn, gives me a break, more ideas and inspires me in a lot of ways. I see architecture as a hobby, therefore practicing every day, developing my skills and trying to present the best project in studio has allowed me to present projects in studio that I am proud of.
What is one tip you would give yourself in your 20s?
Regardless of outside forces, be confident in exploring new ideas, pushing ideas forward and developing ideas that you believe in. Do not be afraid of questioning current "architecture paradigms." Sketch more, practice more entrepreneurship, and apply for more scholarships/traveling fellowships.
How have you overcome unforeseen challenges through your career?
I have always found it easy to ask for help, to be resourceful and conscious about my goals and priorities. Those around me especially my wife, friends, and family have greatly shaped who I am today and thanks to them, I've been able to keep going in moments of adversity.
How do you define work-life balance and how is it achievable?
I keep a "red" journal/sketchbook with me at all times and everywhere I go. In it, I have written down my top five life goals. When in doubt about time conflicts, I always look back at those goals and adjust accordingly. I think it is essential, especially for students in architecture, to always stay focused and have clear priorities. Work-life balance is nothing more than knowing your goals, having clear personal priorities and following them.
What is a decision or action you made in school that influenced your trajectory?
I started out college pursuing a civil engineering degree. After encouragement from my then girlfriend, now wife, I am extremely thankful and happy that I am now in the path to becoming an architect. Architecture has been an amazing journey and being an architect has always been my life goal since I was very young. Taking leadership positions throughout my career have also taught me greatly, and have influenced and enhanced my interests in the community and architecture that solves today and tomorrow's problems.
If you, or another AIAS alumni you know, deserves recognition for their contribution to the profession and society at large, please use the link below to nominate them for this honor.