The American Institute of Architecture Students (AIAS) is celebrating the 60th anniversary of student excellence in leadership, service, and design. In honor of our 60th year, the AIAS is excited to share 60th: Legacy, an ongoing weekly celebration of and thanks to our alumni sponsored by Professional Publications, Inc (PPI). PPI is a publisher of professional licensing exam materials since 1975 and wants to recognize those who have helped the AIAS achieve 60 years of success.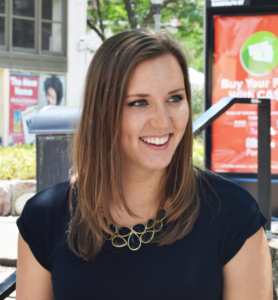 Name
Nicole Gerou, Assoc. AIA
Organization
Hamilton Anderson Associates
Title
Design Professional
Connect
Bio
Nicole Gerou was born and raised in the Upper Peninsula of Michigan. Nicole currently works at Hamilton Anderson Associates located in downtown Detroit as an architectural designer. She graduated from Lawrence Technological University with her B.S. in Architecture in 2013 and M.Arch in 2015. She also received two certificates from LTU: Technical and Professional Communications and Building Information Modeling and Computer Visualization. In her past, she has held many leadership roles such as – Student Government President, AIA National Historic Resources Committee AIAS Liaison, AIAS Midwest Quadrant Director, 2015 National AIA Honor Awards Jury Member, ACSA Top Ten COTE Jury Member, and NAAB visiting team member at Drury University. Outside of architecture, she has a love for dance. She lives by what her grandpa told her when she was younger: "It's not the problem, it's how you handle it." With this attitude, Nicole strives to empower the leaders of tomorrow.
ARE Prep Tip: What is one piece of advice that you would give to those starting to test?

Failure is a normal thing. It happens to all of us, and it shapes us into the architects we've always dreamed of becoming. I once worked at firm where no one had failed an exam before. When I took my first exam and failed (or admitted they failed), I thought this was a sign saying I wasn't meant to be an architect. That's not at all what that meant. I just needed more experience in the division I was taking. I'm about to retake that division and I now have a lot more experience than when I first took it. I have high hopes that I will pass this time. But remember, if you fail your first exam, it's not you. Just study harder and learn everything you can and take it again.
How did your experience with AIAS help you to achieve your goals?
AIAS is an incredible networking tool. It is through AIAS I have friends in all corners of the country and globe. The ability to come together at Grassroots and FORUM and have higher-level conversations to keep the profession a viable thing that is necessary in the world we live in. AIAS opened my eyes to the conversations that I always wanted to have but never had the outlet to have them. It helped me think on a big-picture scale and not only about what's happening at my school or firm, but the profession as a whole. We as architects and designers have this fear to share, but if we don't at least share our opinions with each other, the profession doesn't grow. By creating these relationships through AIAS, I have the ability to continue having these conversations now through AIA. I'm very thankful for the opportunities I've had within AIAS and AIA. If you're looking for where to start, all you have to do is ask.
What and/or who shaped you into who you are and what you do today?
I believe my Mom and my Grandpa had a lot to do with who I am today. My grandpa is the one who gave me my life mantra – "It's not the problem, it's how you handle it." He told me this when I was 16 and was in a bad car accident. Mind you, he told me this from his hospital bed while receiving a chemo treatment after being told he was cleared just a couple months prior. This moment has really stuck with me through the years. I try to have his attitude in tough situations. My mom has also had an enormous influence on me. She has always been upfront and honest with me, even when what she was saying was tough to hear. As I get older, I try to cultivate that in my own life. Elegant honesty is always the best policy no matter what.
How can someone best change the world?
I'm still trying to figure this one out myself. The world we live in today people are afraid to trust their neighbors, coworkers, and even friends. I try to listen, be compassionate and understanding. In order to do the things we want to, and we see is right, we need to build trust with each other. Say what you're doing, and do what you're saying. This is how we build trust, and in turn create change. It's important to start SOMEWHERE; it's better than never starting at all. Look at your local organizations, get involved with Freedom by Design, and always help someone in need.
How can someone be a better designer?
We as architects and designers need to learn to be aware of the driving forces of our clients. If a client says they want a community center, it is our job to learn more about what the community needs. We need to stop designing as checklists and really learn what the client's (the end user, not the developer's) underlying needs and wants. If we always create only hospitals, schools, and community centers, we will never create a good reputation for the profession and risk becoming obsolete. This is how good design turns into great design.
What is one tip you would give yourself in your 20s?
Well, I'm still in my 20s so this is awkward. However, I think money management is a real skill that everyone should learn in his or her 20s. I also think it's important to be a real person and speak up when you think something is not right. Come talk to me when I'm 35 – I'm sure I'll have a lot more to say then.
How have you overcome unforeseen challenges through your career?
I believe it's important to be honest in tough situations. You will be more respected if you're open and honest through your struggles. I have had a few struggles in my professional career. I have a disease that causes a lot of pain, and some days it's debilitating. I've had to have conversations with HR and directors about providing me the ability to work from home at times. I don't expect it to be received well, but I try to be honest and to always follow through on promises. I've found that when I'm upfront and honest about my situation, it leaves less room for speculation. And if you find yourself at a firm that maybe isn't the right fit for one reason or another, it's okay to leave. But the ability to be honest during your exit interview is a real skill that takes maturity and practice.
How do you define work-life balance and how is it achievable?
I believe when firms are flexible with their hours and put trust in their employees, a work-life balance is achieved. It's good for work and life to be seamless – this is how we know we love what we're doing. It is then that we create some of our most inspiring work. However, it's okay to leave work at work when our friends and families need us. Remember to stay involved in other activities that we are also passionate about. I'm very thankful to work for a firm that is understanding and works with me to help me achieve what I want to do in life as well as my professional goals.
What is a decision or action you made in school that influenced your trajectory?
I was going to run for VP my year after Quadrant Director and decided not to. I don't regret it. I had personal health issues I needed to focus on, and unfortunately, the position of National Vice President did not fit with them. Had I ran and won, I would have moved to DC and would probably still be there. I wouldn't be at a firm that I've always wanted to work for and I wouldn't be dating my boyfriend of 3.5 years. Now I'm not saying I would have won if I ran, Joel made an excellent VP – I just know I wouldn't be where I am today had I decided to run. Also to shamelessly plug here – if you're thinking about running, DO IT!! It's an amazing experience. You will learn so much about the organization we all love, as well as yourself. You will gain confidence you didn't even know you had!
If you, or another AIAS alumni you know, deserves recognition for their contribution to the profession and society at large, please use the link below to nominate them for this honor.