The American Institute of Architecture Students (AIAS) is celebrating the 60th anniversary of student excellence in leadership, service, and design. In honor of our 60th year, the AIAS is excited to share 60th: Legacy, an ongoing weekly celebration of and thanks to our alumni sponsored by Professional Publications, Inc (PPI). PPI is a publisher of professional licensing exam materials since 1975 and wants to recognize those who have helped the AIAS achieve 60 years of success.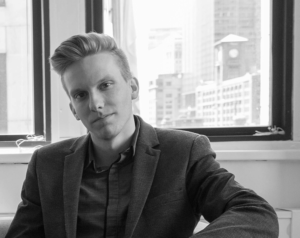 Name
Ryan Gann, Assoc. AIA
Organization
Ross Barney Architects
Title
N/A
Connect
Bio
Ryan is a Architect-in-training at Ross Barney Architects in Chicago, Illinois. Originally from Holland, Michigan, Ryan knew he wanted to be an architect since fifth grade when he began drawing floor plans of luxurious private planes, inspired by the MTV series "Cribs". He honed that passion and graduated from the Illinois Institute of Technology's College of Architecture in 2014. During his tenure at IIT he spent a great deal of time committed to empowering students: the next generation of architects. He started his involvement by accidentally volunteering to be the AIAS chapter's Treasurer, and later became Chapter President, Midwest Quadrant Director, Student Director for AIA Illinois, a Director for the NAAB, and the Illinois Regional Director on the National Associates Committee. Ryan has a relentless commitment to architecture and the role it plays in life quality. His thesis, titled "Lakehub", re-imagined a contemporary Great Lakes transit system that challenged the notion of a connected regional metropolis. His work was awarded the Art Institute of Chicago's Schiff Foundation Fellowship, exhibited at the museum, and now resides in the Ernest R. Graham Study Center for Architectural drawings. Upon graduation, Ryan joined Ross Barney Architects with an interest in their commitment to design excellence in the public realm. He has worked for clients that include: the Lincoln Park Zoological Society, Great Rivers Chicago / Metropolitan Planning Council, Chicago Access Network Television, Chicago Transit Authority, Chicago Department of Aviation, University of Illinois Urbana Champaign School of Architecture, and the City of Nanjing. In his spare time he enjoys traveling and is devoted to being inspired by culture, architecture, and food.
ARE Prep Tip: What is one piece of advice that you would give to those starting to test?

I recently started studying and have been a bit neglectful of my aspiration to become a licensed Architect. My tip might be to just start, spend 30 minutes or an hour to begin with, and grow a more rigorous studying schedule from there. Don't over think it, you got this far.
How did your experience with AIAS help you to achieve your goals?
I am not certain I ever defined a goal early in my academic career and saw the AIAS as a vehicle to achieve it. In all honesty, it happened by accident and I slowly became more interested in advocacy and creating a positive culture for students of architecture. AIAS taught me invaluable leadership skills that I now use on a daily basis, it has helped me lead projects and take on responsibility within my firm that is normally attributed to those far more experienced.
How can someone best change the world?
I work exclusively on projects in the public realm, whether that be the Chicago Riverwalk, a CTA transit station, or a masterplan for 150 miles of riverfront. I am changing the world by looking to the future and engaging communities. Our studio lives by a mantra that we should leave the world a better place. It happens to be that we define that by focusing on the interstitial space that has such a great affect on life quality.
How can someone be a better designer?
One thing I have noticed at the start of my career is that sometimes aspirations die quickly and the routine of life takes hold. Never let that happen. Stay eager, focused, and endlessly curious. At the end of the day, design is subjective, so focus on the impact a project can have on its community; that guiding light will create spaces that are treasured and loved.
How do you define work-life balance and how is it achievable?
Personally, my passion for architecture infiltrates all facets of my life, so I am not certain there is a moment of balance. That being said, I try not to overwork and only do so when I am so interested in continuing past the end of the work day; it's more self-motivated than forced. Balance might not be achievable, but stay aware of what keeps you happy and passionate.
What is a decision or action you made in school that influenced your trajectory?
During my 2nd year I decided to take on an Urban and Regional planning minor. Unfortunately, the classes that had applicable credits were no longer offered a year later. I took that interest and applied it to all of my other course work, eventually doing a thesis more focused on planning than architecture. By self-defining a part of my educational experience I found a focus that continues in the workplace today of how our profession communicates the value design has at a micro and macro scale.
If you, or another AIAS alumni you know, deserves recognition for their contribution to the profession and society at large, please use the link below to nominate them for this honor.