The American Institute of Architecture Students (AIAS) is celebrating the 60th anniversary of student excellence in leadership, service, and design. In honor of our 60th year, the AIAS is excited to share 60th: Legacy, an ongoing weekly celebration of and thanks to our alumni sponsored by Professional Publications, Inc (PPI). PPI is a publisher of professional licensing exam materials since 1975 and wants to recognize those who have helped the AIAS achieve 60 years of success.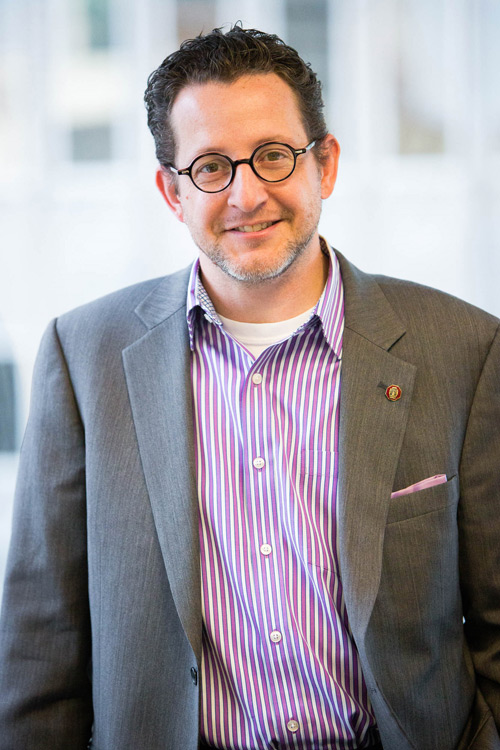 Name
Shannon Kraus, FAIA
Organization
HKS Architects
Title
Principal, Senior Vice President, Board of Directors
Connect
Bio
Focused on creating sustainable architecture that connects with its users and the community it serves, Shannon has dedicated much of his work to experiential design solutions that reinforce the clients brand, vision, and values. Most recently his projects have been recognized for how they integrate hospitality and urban design with healthcare design, to redefine the patient/guest experience.
With over 15 years of healthcare planning experience, Shannon has been an integral part of the design and planning of over 20 million square feet of healthcare projects throughout the United States and abroad on projects of all sizes in scope. His projects have been honored with design awards from both the AIA, and Modern Healthcare, and have been recognized in publications such as World Architecture News, Healthcare Design, and Hospitality Design magazines.
Shannon is a board certified healthcare architect by ACHA, is a contributing author to the FGI 2010 & 2014 Guidelines for Healthcare Construction, and is on Faculty with the American Hospital Association teaching seminars in hospital design. In 2005 he served as National Vice President on the American Institute of Architects Board of Directors where he helped organize and lead the organizations knowledge and research agenda. In 2007 he launched and founded the HKS design fellowship, focused on bringing together designers across the globe together for the purposes of providing design thinking to a community base need. In recognition of his contributions, he was awarded young architect of the year from the AIA in 2005, and from TSA in 2006. In 2008 he was named one of building design and constructions 40 under 40, and in 2009 was honored as one of the Dallas Business Journal's 40 under 40 honorees. In 2013 he was named Fellow by both the AIA and the ACHA.
ARE Prep Tip: What is one piece of advice that you would give to those starting to test?

Start as soon as you're eligible. There is never a "best" time, life only gets more complex the further out of school you get, both personally and professionally.
How did your experience with AIAS help you to achieve your goals?
AIAS opened my eyes to the need for architects as a voice in shaping communities through leadership, as well as the need for more business education. As a result, after my tenure as AIAS National Vice President I went back to school to get a Masters in Business as well as Architecture. Between the leadership skills learned with AIAS and a broader appreciation of social issues, that has propelled my career both within and outside of HKS.
What and/or who shaped you into who you are and what you do today?
The biggest influence on who I am today is my family. Both my parents and my wife and kids are the source of so much of my passion and drive. I have had many great mentors within and outside of the profession, but family is what shapes me the most.
How can someone best change the world?
Change can happen with small first steps. It starts by caring and engaging with it. You shape the world both by your decisions to be involved and your decisions not to. Both have impacts, but only by being involved can you positively influence how it evolves.
How can someone be a better designer?
As it relates to architecture, by focusing on the entire building and construction process. By thinking beyond the limits of the project and towards its impact on a community, a neighborhood or user.
What is one tip you would give yourself in your 20s?
Stay close with friends, and enjoy the moment.
How have you overcome unforeseen challenges through your career?
All of life, the good and the bad, are the ingredients that shape who you are. Challenges bring vitality and passion and help propel you forward. I approach each challenge as an opportunity to evolve who I am.
How do you define work-life balance and how is it achievable?
Work-life balance will vary by person and over the course of their career. I define it as a state of harmony where your personal life and professional life are equally stress "lite". One is not put into more stress for the sake of the other. It is achievable just by staying in tune with your state of mind and proactively managing it day to day as curve balls come from either side.
What is a decision or action you made in school that influenced your trajectory?
My decision to attend AIAS Grassroots in 1994 led to being elected national officer in 1995, which led to me meeting my eventual wife, my kids, and my career. I would be a whole different person if not for that.
If you, or another AIAS alumni you know, deserves recognition for their contribution to the profession and society at large, please use the link below to nominate them for this honor.