The American Institute of Architecture Students (AIAS) is celebrating the 60th anniversary of student excellence in leadership, service, and design. In honor of our 60th year, the AIAS is excited to share 60th: Legacy, an ongoing weekly celebration of and thanks to our alumni sponsored by Professional Publications, Inc (PPI). PPI is a publisher of professional licensing exam materials since 1975 and wants to recognize those who have helped the AIAS achieve 60 years of success.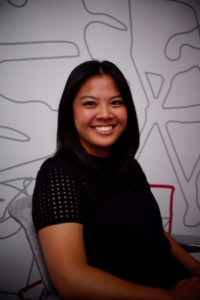 Name
Taylor Chan, Assoc. AIA
Organization
Woodhouse Tinucci Architects | Illinois Institute of Technology
Title
Architectural Designer | Adjunct Professor at the Illinois Institute of Technology
Connect
Twitter | Instagram | LinkedIn
Bio
Originally from Los Angeles, Taylor is currently an architectural designer at Woodhouse Tinucci Architects in Chicago. Throughout her academic career at IIT, Taylor showed her dedication to the advancement of architectural education and the profession through her involvement in the American Institute of Architecture Students, as a leader on a local and national level, and through her service to the National Architecture Accrediting Board (NAAB), where she has been selected to serve on accreditation teams to Cal Poly Pomona in California and the Pontifical Catholic University of Puerto Rico. While at IIT, Taylor was also selected to serve as a mentor in the Cloud Scholars Mentorship Program, working to instill first-year students with a sensitivity to site-related issues, an attention to detail, and a better understanding of the rigors of architectural design through site visits, discussions, and drawing.
Postgraduate, Taylor continues her dedication to the advancement of architectural education through the ACE Mentorship Program, where she has been a mentor for high school students for the past 3 years, and as an Adjunct Professor at the Illinois Institute of Technology, teaching Design Communication courses at the College of Architecture.
At Woodhouse Tinucci Architects, Taylor's primary work consists of civic and higher education projects, as her her interest lies in improving the urban environment through civic architecture and design. She is currently in process of pursuing licensure.
ARE Prep Tip: What is one piece of advice that you would give to those starting to test?

If I could suggest one piece of advice, I would suggest to pair up with others to study with. It's always easy to get pin holed in a subject that you're not too knowledgeable about, but studying with others taking the tests will keep your motivation on track. You'll rely on others to help out with ARE questions when needed, and they'll do the same with you. You'll be held accountable to keep studying!
How did your experience with AIAS help you to achieve your goals?
My involvement in AIAS has played a huge role in achieving my goals. Throughout my involvement, AIAS has expanded my horizon of architecture, beyond the classroom, and most importantly, helped me transition into being a professional. Experiences in the organization have taught me confidence, inquisitiveness, and professionalism, three aspects that I think are vital to where I am today. AIAS helped me create a network of student and professional leaders in the industry, many of which whom have played a critical role in where I'm at. From chapter meetings, to national conferences, AIAS gave me a wide variety of opportunities to grow personally, and professionally.
How do you define work-life balance and how is it achievable?
I'm still working on work-life balance, and I think it will always be something I work towards. I am thoroughly invested in my work, however I do try to keep work separately from my private life. Time away from work allows my creative process to breathe, and as a result it I am actually more productive
What is a decision or action you made in school that influenced your trajectory?
That one decision that changed my entire trajectory would definitely be when I joined AIAS. I was a bit timid as a freshman, and jumping into something new and unknown, is definitely how I landed with all the opportunities I had. Taking chances, even when I didn't think I'd deserve or know enough about it, was when I felt the most rewarded, taking that leap of faith, and surprising yourself with what you thought you weren't capable of doing.
If you, or another AIAS alumni you know, deserves recognition for their contribution to the profession and society at large, please use the link below to nominate them for this honor.