The American Institute of Architecture Students (AIAS) is celebrating the 60th anniversary of student excellence in leadership, service, and design. In honor of our 60th year, the AIAS is excited to share 60th: Legacy, an ongoing weekly celebration of and thanks to our alumni sponsored by Professional Publications, Inc (PPI). PPI is a publisher of professional licensing exam materials since 1975 and wants to recognize those who have helped the AIAS achieve 60 years of success.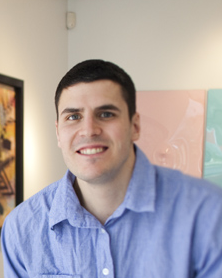 Name
Ted Mikulski
Organization
The Eighth, Inc. | Eleven Thirty, LLC | Newor Media, LLC | SSLJ Ventures, LLC
Title
Founder, Owner
Connect
Bio
I earned my Masters of Architecture from Norwich University in the spring of 2007. Out of school, I pursued a full-time art career while teaching art part-time at several colleges in Connecticut. I had several exhibitions including the Dorian Grey Gallery in NYC and the New Britain Museum of American Art. Eventually, I got disinterested in the art world and perused businesses. I founded The Eighth, Inc. in 2013, which is in the business of digital asset acquisition and venture capitalism. I also manage/own several other companies in the digital ad sales space, asset investing, as well as a video streaming service.
How can someone best change the world?
When you're older, you'll never remember the days you sat around playing games or doing nothing. That being said, it's not always about changing the world. Set goals for yourself and go out and crush them. Then you'll have bigger goals. My motto is that hard work usually solves everything.
What is one tip you would give yourself in your 20s?
I'm pretty satisfied with the path I took, but if there is one piece of advice, it would be not to take things so seriously and enjoy the first few years out of school. There is plenty of time for seriousness once you have a family and more responsibility.
How have you overcome unforeseen challenges through your career?
By not feeling sorry for myself. I've had plenty of companies and ventures go bust, but I wouldn't sit around and dwell on it. It took me a long time to figure out what I was going to do with my career, and I'm happy to have experienced all the shots that missed.
How do you define work-life balance and how is it achievable?
I focus on halting work completely when I Ieave my office. It took me years to not be constantly thinking about work and new ideas, but eventually you realize how much you're missing out on. Work isn't everything, and delegating some of our responsibilities to those that could use the experience is important.
What is a decision or action you made in school that influenced your trajectory?
I think staying in the architecture program, while still being unsure about the profession was important. It allowed me to think more deeply and creatively as time went on, and I was able to apply that to many different fields, including business. In my opinion, it's crucial to realize that after some time you may realize your degree may not line up with what you want to do, and this happens to be the best period in history to self-learn and apply it to what you really want to do. Sometimes it's better to stick with a degree you've chosen and absorb as much as you can, instead of constantly changing programs. Architecture will help you think creatively and work hard along the way.
If you, or another AIAS alumni you know, deserves recognition for their contribution to the profession and society at large, please use the link below to nominate them for this honor.