The American Institute of Architecture Students (AIAS) is celebrating the 60th anniversary of student excellence in leadership, service, and design. In honor of our 60th year, the AIAS is excited to share 60th: Legacy, an ongoing weekly celebration of and thanks to our alumni sponsored by Professional Publications, Inc (PPI). PPI is a publisher of professional licensing exam materials since 1975 and wants to recognize those who have helped the AIAS achieve 60 years of success.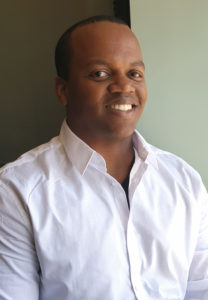 Name
Vaughn Horn, NCARB, LEED AP
Organization
Boston Architectural College
Title
Faculty and Director of Special Projects
Connect
Instagram | LinkedIn | Website
Bio
Vaughn Horn's experience cache includes an array of projects from stadia to retail buildings. In 2002, he earned his B-Arch degree from the University of Southern California. He then earned an M-Arch degree from Syracuse University in 2005. Currently, he is a DDES Student at Harvard University. The breadth of his research includes articles and paper presentations at prestigious institutions. In 2008, he founded Vaughn Horn Design, LLC in Dallas, Texas. The company specialties include sports architecture and K–12.
In 2012, he earned Educator of the Year by the American Institute of Architecture Students while serving as Assistant Professor of Architecture at Tuskegee University, bestowed at the AIAS FORUM. Vaughn is a Harvard Graduate Consortium member at the Center for Energy and the Environment.
Recently, he served as adjunct professor at Boston Architectural College, and Teaching Fellow for undergraduate and graduate courses at Harvard Graduate School of Design and the Faculty of Arts and Sciences.
ARE Prep Tip: What is one piece of advice that you would give to those starting to test?

Those starting the test should first assess which direction they see their career trajectory. To me it is most important for candidates to understand what they wish to accomplish once licensed. Candidates should map out an 18 month to 2 year plan to complete the 6 exams while maintaining a work-life balance.
How did your experience with AIAS help you to achieve your goals?
AIAS afforded me the opportunity to obtain leadership experience, from Grassroots to serving as the Vice President of the USC chapter during my undergraduate education, which groomed me for my subsequent positions in academia and in the practice that included serving as the adviser for the Tuskegee chapter from 2010-2013.
What and/or who shaped you into who you are and what you do today?
My family shaped the man I have grown to become. It is because of their constant encouragement that I was able to achieve a B. Arch, M. Arch, and now attend Harvard for my Doctorate. The family-type atmosphere shaped my approach as a general member and leader in AIAS.
How can someone best change the world?
"Why not me?" is the mantra that drives change in this world. I encourage my students and younger colleagues whom I mentor that it is incumbent upon each of us not to fear the responsibility that comes with change when we utilize our gifts whether through design, oration, writings or organizing.
How can someone be a better designer?
When design becomes the voice for the voiceless, the designer is made better. When designers avail themselves to the rich amounts of social data on how people interact and how cities actually work, Design (captial D) leads the way to aggressively combat many of the social ills we encounter daily. Purposeful design is always better than design for design's sake.
What is one tip you would give yourself in your 20s?
Understand the difference between the pedagogy of architecture and the practice of architecture.
How have you overcome unforeseen challenges through your career?
Faith, patience and perseverance have served me well in my career. For instance, it took 21 tries for me to pass the ARE. In fact I took the structures exam five times. Ironically, my first class as a professor was Advanced Structures. For me, my career is a testament to overcoming the unforeseen and strengthening myself to become more nimble in facing adversity.
How do you define work-life balance and how is it achievable?
Unplug, yoga, and drink (just kidding)! It is impossible to balance work and life while still being plugged-in to the myriad of devices and distractions we utilize on a daily basis. When working in a demanding setting, do not take work home. Take the time to reset yourself, through yoga or some meditative activity such as sitting in silence for a few minutes. Any time my work-life relationship is out of balance I am less creative, more stressed, and less productive.
What is a decision or action you made in school that influenced your trajectory?
Two decisions stood out most. In my second year of undergrad, I spilled a soda on my model days before the final review. I considered quitting architecture altogether and tried to convince myself to take a "D" for the semester. After my pity party lasted only a few hours, I remade that model and still passed my studio course. Secondly, during the 2008 recession, I was laid off from my job at HKS. Instead of sulking, I decided to pack my backpack with resumes and my portfolio and I went door-to-door seeking work. I ended up meeting a developer who put me to work right away and allowed me to become an entrepreneur, establishing Vaughn Horn Design in January 2009. Though it was not the most lucrative work experience, it was the most rewarding.
If you, or another AIAS alumni you know, deserves recognition for their contribution to the profession and society at large, please use the link below to nominate them for this honor.