Washington, DC – January 24, 2021 – The American Institute of Architecture Students (AIAS) congratulates the winners of the 2021 AIAS Honor Awards. Each year the AIAS honors individuals and groups for their exemplary work in areas such as leadership, collaboration, scholarship and service.
"Despite 2021 being the year that it was, we saw an amazing set of submissions! Our jury had a tough time narrowing down many of the categories to just a handful of winners. The AIAS prides itself on its resiliency and the awards this year showcased just that – the dedication and hard work of our members during these challenging times. Whether or not you submitted for an award, a huge shoutout to everyone that has managed to keep FBD moving forward despite being virtual for a majority of the year," said said 2019-2020 AIAS National Vice President and 2021 Honor Awards Jury Co-Chair, Adam Fogel.
Fellow Co-Chair and 2020-2021 AIAS National Vice President Sara Taketatsu also shared that, "It's remarkable that despite the virtual year we had, there was still so much tremendous work being done within the AIAS. Even though we are still celebrating everyone virtually, the accomplishments of the awardees are more impressive and worth even more honor. These awards remind us what is possible when we prioritize our community and strive to improve ourselves as the next generation of architecture and design professionals."
The AIAS Honor Awards were developed to publicly recognize outstanding achievements by students, educators, and practitioners who have exhibited an exemplary commitment to the education and development of architecture students. The AIAS is thrilled to add these individuals and chapters to the long list of exemplary members of the organization. The AIAS community joined in congratulating them and their hard work during a special Honor Awards ceremony at the virtual AIAS FORUM 2022 Denver | CONVERGE conference.
The 2021 Award Winners this year are:
CHAPTER HONOR AWARD
California Polytechnic State University, San Luis Obispo
Honorable Mention – University of Arizona
CHAPTER LEADER HONOR AWARD
Julia Andor, New York Institute of Technology – Long Island
Ally Kwan, University of Arizona
Tomas Stankiewicz, California Polytechnic State University – San Luis Obispo
DESIGN EXCELLENCE HONOR AWARD
Naomi Grigoryan, The Savannah College of Art and Design
EDUCATOR HONOR AWARD
Jennifer Pindyck, Assistant Professor of Architecture and Interior Architecture, Auburn University
Danielle Willkens, PhD, Assistant Professor, Georgia Institute of Technology
Honorable Mention – Michael Ross, Assistant Professor, University of Tennessee
EMERGING PROFESSIONAL HONOR AWARD
Joshua Robinson, Assoc. AIA, Perkins & Will
OUTSTANDING AIA COMPONENT HONOR AWARD
OUTSTANDING FREEDOM BY DESIGN PROGRAM HONOR AWARD
X University (formally known as Ryerson University)
Honorable Mentions – California Polytechnic State University – San Luis Obispo and Northeastern University
OUTSTANDING FREEDOM BY DESIGN PROJECT HONOR AWARD
Northeastern University, Outdoor Playspace at the Chamblet House
STUDENT RESEARCH HONOR AWARD
Monica Lamela Blazquez, University of California, Berkeley
Namrata Brahmbhatt, AIAS
2021 AIAS HONOR AWARD JURY
Additionally, the AIAS would like to thank our AIAS Honor Award Jury members for their passion and volunteering their time to review the submissions of all the exceptional candidates in each category.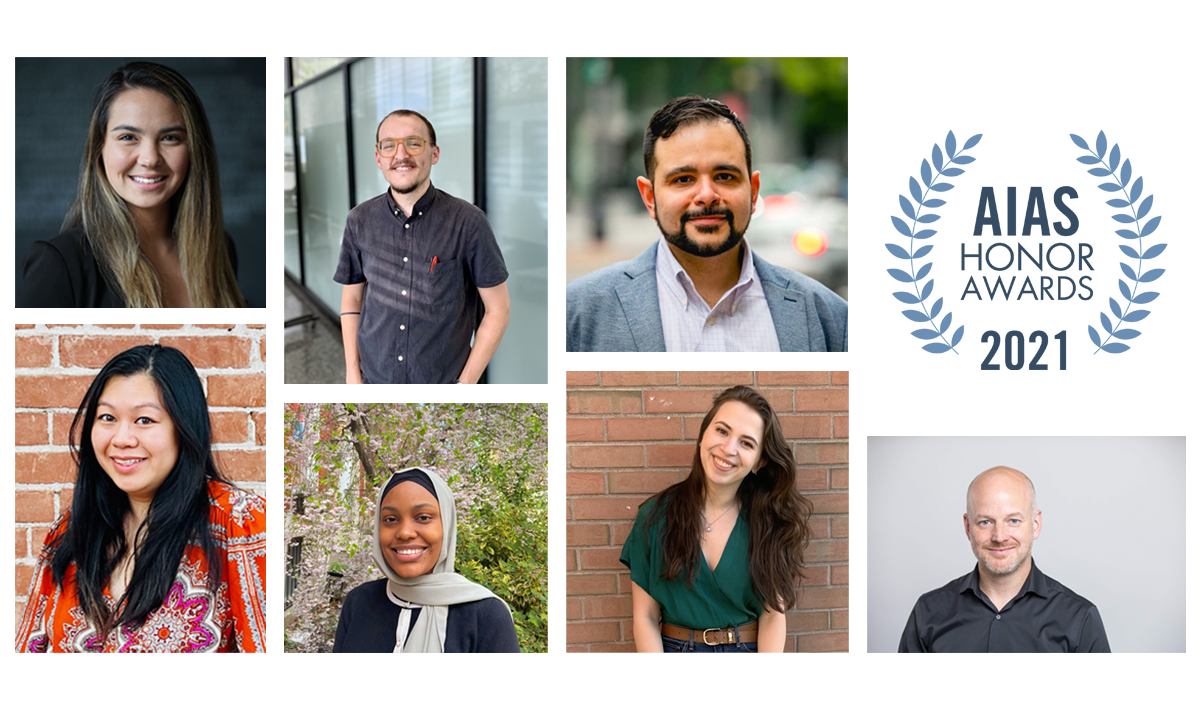 ###
ABOUT THE AIAS
The American Institute of Architecture Students is a non-profit, student-run organization dedicated to programs, information and resources on issues critical to architecture and the experience of education. For more information, visit www.aias.org.