Registered? Access FORUM Here!
To access the conference page above, please find the password in the Know Before You Go and Day Of Emails sent to all registrants.
The AIAS signature conference, FORUM, is the largest annual gathering of architecture students in the world. We are excited to announce that this year's conference will be hosted virtually from Denver, CO on January 6th – January 8th, 2022.
The AIAS does so much amazing work, but where does it all come together? What is the confluence of these efforts, the thing that binds it all together?

It's FORUM!

Even within the AIAS, the challenges of the last year have often seemed to separate and distance us from one another. In order to make change and rebuild something better than we had before, in order to evolve, we must come together. The city of Denver – the Mile High City – is the perfect metaphor. Here, natural and manmade summits, seemingly disparate and even opposed, come together to create an extraordinary place. This is your call to action. This is where our ideas, our demands, our members and our movements converge.
Thursday, January 6th
Friday, January 7th
Saturday, January 8th
Sunday, January 9th


11:00 am – 2:00 pm EST
Education and Career Expo
Thinking about grad school? Graduating this year? If so, you should attend the Education & Career Expo at this year's FORUM! Network with top firms, organizations, and universities and learn from the professionals that are in or associated with the field.

2:00 pm – 5:00 pm |  Break
5:00 pm – 7:00 pm EST
Keynote: Dissent

Cruz Garcia & Germane Barnes


11:00 am – 12:00 pm EST
Track 3 Community
Diversity Data: Identifying Challenges to and Opportunities for Real Solutions
Speakers: Maurice Brown, Andy McIntyre, and Jared Zurn; NCARB
What is the data telling us about the challenges we must address and the opportunities we must capitalize on to address diversity, equity, inclusion and justice in the architectural profession? Dive into data insights from NCARB by the Numbers, the joint NCARB/NOMA Baseline on Belonging survey, and other data sources to illuminate the interplay between firm culture, access to education, and career opportunities. Actively participate throughout the session with your peers to reveal insights and share ideas to create a more diverse, equitable, and inclusive profession.
Track 2 Sustainability
Innovation in Informal Settlements: Making visible the most common form of urbanization of the planet.
Speaker: Jose Jaime Samper Escobar
Informal settlements (what some call slums) are the most common form of urbanization on the planet, accounting for one-third of the total urban form. It is expected that by the mid-twenty-first century, up to three billion people will live in these urban environments. However, we lack a consistent mapping method to pinpoint where that informality is located or how it expands. We explore the implications of that growth in the atlas of informality and how by visibilizing informal communities, we can be made aware of innovations by these communities that can save the planet.
Track 1 Community
How Co-Designing with Children and Youth Leads to More Sustainable and Equitable Communities for All
Speaker: Mara Mintzer
As a future architect, are you hoping to design spaces and places that are sustainable, equitable, beautiful, filled with nature and art, and maybe even playful? If you answered yes, then join this session to learn how to enlist your biggest allies in co-creating this future: children and youth! Children and youth make up one quarter of the United States' population, but they are rarely offered the opportunity to shape their own communities. We will discuss why it benefits all ages to include child and youth voices in community planning and review some of the creative tools and outreach methods used to do so.
12:00 pm – 12:30 pm | Break

12:30 am – 1:45 pm EST
The Return of FBD
Speakers: Marwa Al-Saqqar, Tristan Osorio, Michelle Tapia, and Christina Achkar
Following up Freedom By Design's (FBD) training event at Grassroots 2021, this session will dive deeper into new ideas and themes that were introduced earlier this year. Now that the theory behind the evolution of FBD has been provided, the Freedom By Design Advisory Committee (FBDAC) is excited to discuss them in detail and share new resources and methods to succeed in your service-based initiatives. Join the FBDAC to learn more about the recent updates FBD has undertaken, flip through the new FBD Manual, and understand how to take your ideas into reality through the presentation of several existing FBD projects.
Color Theory
Speakers: Christine Handy and Marry Hoffman, Benjamin Moore
Color Theory the basic principles: how we see color, using a color wheel, and the elements that must be considered when choosing color. The dos and don'ts of how to view color and how to effectively use color for a successful project. This session is sponsored by Benjamin Moore.
ArchiGesture Jam – Art of Urban Sketching
Speaker: Hsu-Jen Huang
SCAD Architecture professor Hsu-Jen Huang will lead the jam which focuses on field sketching in architecture and cityscape. Using media such as graphite and/or colored pencils, copic pens and watercolor. ArchiGesture Jams are informative and fun learning opportunities that developing quick-sketch methods and media-handling techniques.
1:45 pm – 2:00 pm  |  Break

2:00 pm – 3:00 pm EST
Track 2 Sustainability
Wood Urbanism: The Role of Mass Timber Design
Speakers: Daniel Ibañez
The environmental challenges of this century demand a new generation of buildings made from renewable, reusable, and carbon-storing materials; mass timber is uniquely positioned to address this challenge. Recent technological developments enable tall building structures made with prefabricated and highly industrialized mass timber elements. The construction sector is gradually shifting toward prefabrication, industrialization, and off-site manufacturing as these strategies shorten construction time, reduce embedded energy expenditures, reduce CO2 emissions, and reduce waste generation. This shift requires greater design control and increased manufacturing precision, thus positioning architects, engineers, and designers as key actors. Within this context, this talk will unpack the role of mass timber design for the coming decades.
Track 2 Sustainability
Sustainable Design – Future Ready
Speaker: Elaine Gallagher Adams
Elaine Gallagher Adams, AIA, LEED AP BD + C, serves as LS3P's Sustainability Leader. Elaine brings substantial multidisciplinary expertise and experience as a practicing architect, professor, sustainability consultant, historic preservation specialist, conference speaker, and contributor to national sustainability guidelines.  She is based in the firm's Savannah office and serves as a firmwide resource for high-performance building design.
Track 1 Community
Trauma-Informed Design: Sharing Multi-Disciplinary Learnings and Best Practices for Implementation
Speakers: Chad Holtzinger & Laura Rossbert, Shopworks Architecture
Trauma Informed Design (TID) explores how the built environment can help individuals heal and thrive through sensitive design. Join experts from the fields of architecture and social services as they share the theory and practice of TID. Through presentation and conversation, we will explore best practices for creating healing spaces, how to implement a TID process for your development, and discuss common environmental triggers and spatial responses that impact individual's well-being.
3:00 pm – 3:15 pm  |  Break

3:15 am – 4:45 pm EST
Quad Breakout
Quad breakouts happen at each of our national conferences (Grassroots and FORUM) and allow for the Quad Directors and Regional Ambassadors to meet with members of their Quad/Region, share announcements, have activities, and more! It gives the QD's and Regional Ambassadors a chance to connect with chapter members and leadership on a wider scale.
Quad Breakouts at FORUM are unique; this is where your Quad Director will facilitate a Q&A session for the candidates for their position, so that you can get to know the people you will be voting for in the election! This year, along with the Q&A session for the QD Candidates, the National President and National Vice President candidates will visit each breakout room and have a Q&A with each Quad and Region. Come meet the students in your region, and the AIAS's next set of leaders!
4:45 pm – 5:00 pm  |  Break

5:00 pm – 6:45 pm EST
General Session Keynote + Final AIAS Election Speeches

Susannah Drake

7:00 pm – 8:00 pm EST
A Conversation about Mental Health, Queerness, and Self-Advocacy in Higher Education
The AIAS Mental Health Task Force presents a conversation with Dr. G. Nic Rider and their associate, Spencer Czech, on the intersections between mental health, queerness, and self-advocacy within the realm of higher education. The conversation will be led by Julia Barksdale (MHTF Chair), Lilian Anderson (MHTF Member), and Colt Brock (MHTF Member). Questions will be pre-discussed and trigger warnings will be provided if relevant. This session will also account for time for questions from attendees.
8:00 pm – 9:00 pm EST
Council of Presidents (CoP) Reception
This session is an opportunity for delegates from the Council of Presidents to interact with candidates for the 2022-2023 Board of Directors, to ask questions and have discussions about the future of the AIAS. Each candidate will be in their own breakout room and delegates will move between them for casual conversations. Delegates should come prepared with questions that will help them and their chapter to determine which of these amazing leaders they want to vote for at the Council of Presidents Meeting on Saturday, January 8th! *Password to enter the zoom meeting will be sent to CoP delegates directly*

11:00 am – 12:45 pm EST
Council of Presidents (CoP) Meeting Day 1 of 2

12:00 pm – 12:45 pm EST
Brunch and Learn Sponsored by Tect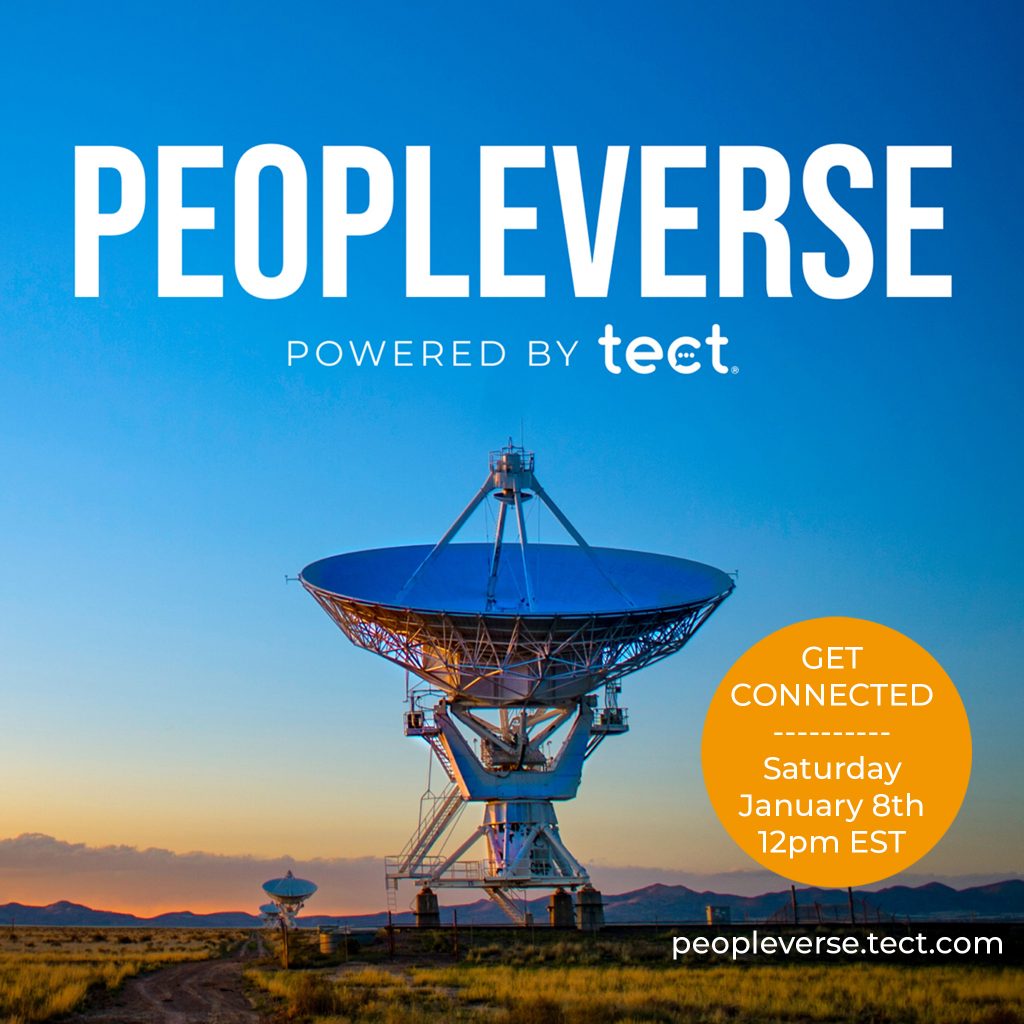 Join architects Bob Habian and Evan Troxel as they welcome you to an exclusive, early look at the PEOPLEVERSE™ powered by Tect. They will share insight into how you can jumpstart your career, grow your professional network, and prepare for unbridled success in the building industry.
12:45 pm – 1:00 pm | Break

1:00 pm – 2:00 pm EST
Presidents Panel
The Presidents Panel is hosted annually by the AIAS during FORUM to provide students with insight into the focuses and efforts of our six partner organizations in architecture, and to allow students to provide these organizations with their thoughts, questions and concerns about the future of our profession and education. This year's panel will feature ACSA President Robert Gonzales, AIA President Dan Hart, AIAS President Scott Cornelius, NAAB President Rebecca O'Neal, NCARB President Alfred Vidaurri and NOMA President Jason Pugh. The panel will focus on diversity, equity and inclusion efforts, as well as efforts and discussions surrounding mental health and holistic wellness.
2:00 pm – 3:00 pm  |  Break

3:00 pm – 4:30 pm EST
General Session Keynote +  Election Results

Mike Ford


11:00 am – 12:45 pm EST
Council of Presidents (CoP) Meeting Day 2 of 2