Become a FORUM 2022 Converge sponsor here! For more information, please reach out to our Director of Development and Partner Engagement, Michael Mullings-Whitaker.
Media Sponsor: $750.00
Social Commercial(s)
Pre/Post Emails
Website Advertising
Partner Landing Page with Swag Bag Opportunity
Design Alliance National Partnership
Logo on General Session Slide
Education & Career Expo Sponsor: $1,500.00
Access to attend/present
Custom 1+1 Opportunities with our Members
Design Alliance or Collegiate Associate  National Partnership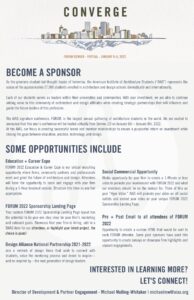 Download the full PDF here.
Pay Now