The American Institute of Architecture Students (AIAS) is celebrating the 60th anniversary of student excellence in leadership, service, and design. In honor of our 60th year, the AIAS is excited to share 60th: Legacy, an ongoing weekly celebration of and thanks to our alumni sponsored by Professional Publications, Inc (PPI). PPI is a publisher of professional licensing exam materials since 1975 and wants to recognize those who have helped the AIAS achieve 60 years of success.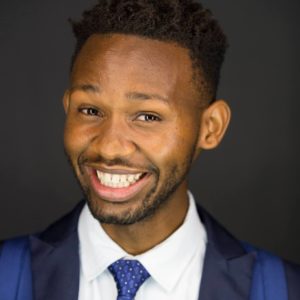 Name
Wandile Mthiyane, AIAS
Organization
UBUNTU Design Group
Title
BossIntern (Founder & CEO)
Connect
Facebook | Instagram | Website
Bio
Emanating from a humble background of KwaMashu, Wandile Mthiyane rose each day to contemplate on his dream to change the world. In spite of the immediate battle to fight the endless trend of poverty, he amplified his vision to make a difference by developing an intimacy with education, which he believed was the only widget to terminate poverty. His outstanding progress from high school propagated his vision as he was eventually awarded a full-tuition scholarship to pursue architecture at Andrews University in Berrien Springs, Michigan. His strive for excellence resulted in his service as the 2015-2016 President of AIAS at the Andrews School of Architecture. Realizing that architecture is an excuse to partner with communities in creating a better reality, Wandile broadened his realms of influence by founding Ubuntu Design Group, which is aspiring to help people help themselves as far as the accommodation dilemma is concerned. This initiative gave him a platform to be part of the great young minds that attended the 2015 One Young World Summit. After a superlative presentation as he represented Ubuntu Design Group, he is now a Resolution Fellow with the Resolution Project  and a One Young World Ambassador. Wandile is one of the 365 Young World Changers who have been invited to discuss the United Nations Global Sustainable Development goals at the United Nations Headquarters September 2016. Ubuntu Design Group is currently working with Andrews University, Durban Municipality, and King Makhanya to design Umbumbulo Peri (shantytown)-Urban neighborhood. Ubuntu Design Group has been shortlisted to the top 6 finalist for the SXSW Place By Design international competition under the "speculative and prototyping category."
ARE Prep Tip: What is one piece of advice that you would give to those starting to test?

Don't be like me, just do it!
How did your experience with AIAS help you to achieve your goals?
Being a part of AIAS is what made me the leader I am today. All the meetings, events, firm tours, and designs helped me be able to work well with others and understand how to deal with conflict. The network I made by being part of the AIAS is invaluable and, because of that network, Ubuntu Design Group is gaining traction around the world. I love AIAS.
What and/or who shaped you into who you are and what you do today?
This may sound cliché but my first inspiration is JESUS, a man who lived for others. Everything he did was others-centered. From there on, I've been inspired by various people who resembled His character–from Nelson Mandela to Martin Luther King, Jr. I believe that I am the sum of people I hang around with, of which I've been greatly inspired by Joel Pominville, Danielle Mitchell, Obi Okolo, and Charlie Klecha (AIAS Family).
How can someone best change the world?
Change begins the day you do something about it, not the day you post about it. Live to serve others and find something you're passionate about it — have faith and do it.
How can someone be a better designer?
The day you start designing everything with the user (people) in mind–rather than your ego–is the day you will become a great designer. Just remember that it is not about us–it's about and for the people.
What is one tip you would give yourself in your 20s?
Architecture is just an excuse to help empower awesome people around the world.
How have you overcome unforeseen challenges through your career?
Because of prayer I feel like someone greater is looking out for me. Hence, when a challenge comes, I'm always certain that I will find a way. Talking to friends and family also helps a lot.
How do you define work-life balance and how is it achievable?
Hard one! I am a founder of a start-up, so I work 24/7. I am looking forward to the day we get established and maybe than I'll have a better answer. Me in the future: Family, friends. People need to come first.
What is a decision or action you made in school that influenced your trajectory?
I stopped caring about being the best guy in studio and started searching for ways of changing the world by using the little skill I posses. I also realized that there is progress in the process.
You can read more about the work Wandile is doing in the Fall 2016 Issue of CRIT.
If you, or another AIAS alumni you know, deserves recognition for their contribution to the profession and society at large, please use the link below to nominate them for this honor.