The driving force of the AIAS is the growing membership of students emerging as leaders, change-makers, and #successseekers.
The AIAS works hard to champion its future leaders through AIAS Grassroots Leadership Conference programming. Each year, AIAS Grassroots serves as an invaluable experience for chapter leaders to educate themselves on the essentials of running a local AIAS chapter.  This year, the 2018-2019 Quad Directors have developed a series of sessions that go over the best practices of chapter leadership. Don't miss them!
FINDING YOUR WHY! LEADERSHIP AND GOAL SETTING
Leadership is complex. There are many ways to lead. There are many reasons to lead. And there are many people who may disagree with the way you lead. In this session, we will help you find your why! Sharing our favorite leadership tips and tricks, we will cover various forms of communication, help you set goals, and provide a framework of how to achieve those goals on your journey as a chapter leader.

FINANCE 101: MONEY… FIND IT, SPEND IT, SAVE IT
The focus of our session will be going over the basics of AIAS/FBD chapter finances, including best practices, budgeting, fundraising, FBD grants and material donations. We will begin with a 20-minute presentation that covers the previously mentioned content, followed by a group activity and discussion. We will be ending with a short Q&A session where we will field any questions related to finance.

COLLATERAL MEET AND GREET
Similar to last year's "Speed Dating with the Collaterals," the session will have students rotate from table to table, speaking with representatives of the five collaterals. We are hoping to create a fun, casual atmosphere, fostering more meaningful conversations that "demystifies" the larger architectural community. Each collateral plays a vital role in either the academic or professional sides of architecture and it is important for all leaders in the AIAS community to be familiar with each.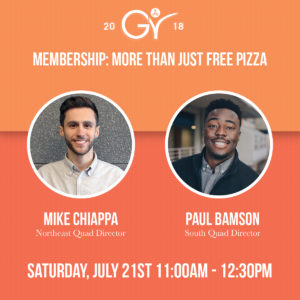 MEMBERSHIP: MORE THAN JUST FREE PIZZA
This session will cover best practices for establishing, growing, and engaging strong chapter membership. From going over membership scenarios and strategies to debunking common excuses, to methods of promotion, this session will give you the tools necessary to start this semester right!